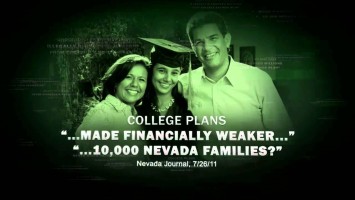 Parroting a piece from a conservative Nevada think tank's publication, a Crossroads GPS ad accuses state Senate Majority Leader Steven Horsford (D), who is running for U.S. Congress, of robbing $4.2 million from a college savings trust fund. As usual, there's more to the story: Horsford chaired a bipartisan committee that voted unanimously to move funding into a scholarship program for current students after finding out that it would not be able to make full payments to its current beneficiaries. The college savings plan that was originally designated to receive some of the money – a fund managed by the Nevada Treasurer that helps families manage payments for future education – remains funded at 108 percent, even without the originally-planned extra infusions.
Nevada Committee Diverted Money To Fund Current Scholarships
Crossroads GPS cites an article from the Nevada Journal on July 26, 2011, for all of its claims about money transferred out of Nevada college savings plans.
In April 2010, The College Savings Board Trust Fund Voted To Put Endowment Money Into Prepaid Tuition Program In Order To Stabilize It By Funding At 120 Percent. According to the minutes of the April 28, 2010, meeting of the Board of Trustees of the College Savings Plans of Nevada, the trustees unanimously approved a plan "bringing the stabilization reserve [of the Prepaid Tuition program] up to 120 percent" by transferring "$1.32 million annually from the College Savings Endowment account to the Higher Education Trust Fund (Prepaid) for the stabilization reserve." [Board of Trustees of the College Savings Plans of Nevada Meeting Minutes, 4/28/10]
In May 2010, Interim Finance Committee Found Out A Different Program – The Millennium Scholarship Fund – Was Underfunded And Students Would Not Receive Full Amounts Towards Current Educations. From the Associated Press: "An aide to Nevada state Treasurer Kate Marshall says the state's Millennium Scholarship fund is $4.2 million short meeting the mark to fully pay for scholarships in 2011. That's a shortfall almost $3 million more than what the legislative Interim Finance Committee was told last week. Treasurer's office Chief of Staff Steve George said Monday the Legislature might have to cut the number of $10,000 scholarships awarded to Nevada high school graduates in 2011, and raise the bar for students to qualify." [Associated Press via ElkoDaily.com, 5/4/10]
In July 2010, Interim Finance Committee Unanimously Voted To Transfer $4.2 Million Into Millenium Scholarship Fund. From the Nevada News Bureau: "The Legislature's Interim Finance Committee voted in July 2010 to transfer $4.2 million in fees from the college savings programs to the Millennium Scholarship to ensure eligible college students would get full reimbursement for classes they took last year. The College Savings Board had previously voted to use the money for other purposes, including support for the Nevada Prepaid Tuition program, a separate fund managed by the Treasurer's Office for Nevada families to save for college within the Nevada System of Higher Education. The transfer was unanimously approved by the 21 members of the IFC after lawmakers were told the fees to be used to shore up the scholarship fund would not affect participants or their investments in the separately managed college savings programs. The fees are paid by families investing in the various college savings plans to brokers, who in turn remit a portion of those fees to the state Treasurer's Office." [NevadaNewsBureau.com, 7/28/11]
Decision To Transfer $4.2 Million Into Scholarship Fund Saved Current Scholarships For 24,000 Students. From the Las Vegas Sun: "An estimated 24,000 students at Nevada's universities and community colleges will continue to get the full allotment of their Millennium Scholarships. The Legislative Interim Finance Committee agreed unanimously Wednesday to transfer $4.2 million from a college savings trust to shore up the Millennium Scholarship finances to honor all payments to students through this fiscal year." [Las Vegas Sun, 7/21/10]
Nevada Treasurer: Prepaid Tuition Program Is Still Funded At 108 Percent. From the Nevada News Bureau: "The Treasurer's Office rejected the notion that the Prepaid Tuition program was harmed by the IFC action. In a press release issued Thursday, state Treasurer Kate Marshall said the Prepaid Tuition program is funded at 108 percent. 'The program is solid, as demonstrated by the dramatic increase in the funded status and a 15 percent increase in new contracts totaling 594 in 2011,' she said." [NevadaNewsBureau.com, 7/28/11]
Members Of Interim Finance Committee Were Advised By Lawyer That Reallocating Money To Scholarship Was Legal. From the Nevada News Bureau: "Minutes of the July 21 special IFC meeting show that lawmakers were told the shift of funds was legal by Chief Legislative Counsel Brenda Erdoes. Sen. Joe Hardy, R-Boulder City, said he believes the transfer was both lawful and appropriate. 'I think that not only was it legal, but it kept students, who anticipated getting tuition money, in college,' he said." [NevadaNewsBureau.com, 7/28/11]
Crossroads' Source Is A Right-Wing Publication
Nevada Journal Attacked Horsford, Asking If Nevada Lawmakers "Illegally Plunder[ed] Millions From A College Savings Program Serving Almost 10,000 Nevada Families." From the Nevada Journal article cited by GPS: "Did Nevada's most powerful legislators, sitting as the Interim Finance Committee last year, illegally plunder millions from a college savings program serving almost 10,000 Nevada families? Chaired by Senate Majority Leader Steven Horsford, the IFC on July 21, 2010, took $4.2 million out of the Nevada College Savings Plans' endowment fund and used it to fill a growing hole in the state's Millennium Scholarship program. Problem was, the endowment funds are under the legal authority of the College Savings Board — a point acknowledged by Horsford just a month earlier — and board trustees had never given their permission. […] Unanimously, at the [College Savings Board] trustees' April 28 meeting, trustees had voted to transfer at least $1.32 million per year, over the coming 10 years — as recommended by the program's actuary — from the endowment fund into the Prepaid program's trust fund. For the first year, 2010, the payment was to be even higher, at $1.75 million." [NevadaJournal.cm, 7/26/11]
Nevada Journal, A Publication Of The Nevada Policy Research Institute, Boasts About Its Influence In Conservative Media. From the Nevada Journal's "About Us" page: "Nevada Journal provides in-depth reporting in the public interest and has been published by the Nevada Policy Research Institute since April of 1993. Originally known as Online Nevada, it was renamed Nevada Journal with the February 1997 issue. Nevada Journal reports and videos have been featured on the Drudge Report, Fox News and the Rush Limbaugh show, and by every major media outlet in Nevada." [NevadaJournal.com, 10/15/12]
NPRI Is A Conservative Think Tank. The Las Vegas Review-Journal describes the Nevada Policy Research Institute as a "nonprofit conservative think tank based in Las Vegas." [LVRJ.com, 9/6/12]
NPRI  Founder Cites Paul Weyrich As Inspiration. From NPRI.org: "Judy Cresanta founded the Nevada Policy Research Institute in the early 1990s following a life-changing trip to the former Soviet Union to educate pro-democracy leaders about free markets and free elections. Her inspirations included Paul Weyrich of the Free Congress Foundation; Jeff Coors of Coors Brewing and the Castle Rock Foundation; Bill Bennett, former secretary of education under President Reagan; and Morton Blackwell of the Council for National Policy. Ms. Cresanta served as the Institute's president until 2001." [NPRI.org, accessed 10/15/12]
Las Vegas Sun Columnist Ralston: "Partisan Nonsense Against Horsford" Indicates NPRI Is Becoming "A Partisan Hit Squad." From Jon Ralston's Las Vegas Sun column: "Unlike some of my media colleagues, I have given the Nevada Policy Research Institute the benefit of the doubt. That is, I have been willing to believe that despite its openly conservative bent, it would produce solid numbers and thoughtfully analyze situations. Although I have found NPRI to occasionally slant data to its political perspective, I have also found the group to often be a reliable resource for numbers and analysis. […] But — and you knew a 'but' was coming — I sense a shift in NPRI, a disturbing one toward acting as a partisan hit squad, not coincidentally against ambitious Democrats looking to move up to Congress. Instead of producing provocative pieces on school choice or tax reform — as NPRI has done — we have been treated lately to overblown vituperations against Assembly Speaker John Oceguera and state Senate Majority Leader Steven Horsford. […]  [T]he group simply spewed partisan nonsense against Horsford. Once again Miller penned a diatribe, with this headline: 'Horsford-led IFC may have illegally plundered millions from College Savings Plan.' May have? Illegally plundered? Really? Is this NPRI or the New York Post? The issue has to do with IFC transferring $4.2 million from a college savings plan to help shore up the Millennium Scholarship. The IFC amended a $200,000 request after a lot of discussion. The vote was … unanimous. So why single out Horsford in that headline? And, why isn't NPRI focusing on the real issue here instead of trying to hurt Democratic congressional hopefuls with accusations they acknowledge they can't prove — that is, whether a lawmaker should be allowed to meet outside of the constitutionally mandated 120 days and move money around?" [LasVegasSun.com, 7/29/11]
[NARRATOR:] Parents and grandparents saved their hard-earned money to send future generations to college. Then Steven Horsford took $4.2 million out of the Nevada college savings plans, financially weakening college savings plans for 10,000 Nevada families. Actions taken without permission. Actions that may have been illegal. Steven Horsford: actions that hurt Nevada families. Decisions that damage our future. Crossroads GPS is responsible for the content of this advertising. [Crossroads GPS via YouTube.com, 10/12/12]