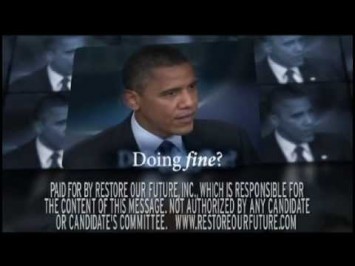 The pro-Mitt Romney super PAC Restore Our Future released an ad exploiting President Obama's comment that "the private sector is doing fine." While Restore Our Future might have voters believe that the president's statement is evidence of a callous or out-of-touch approach to economic recovery, the full context reveals that Obama was speaking specifically about how public-sector job losses are impeding economic recovery – something that's backed up by facts. As the private sector has gained 4.3 million jobs over 28 straight months of growth, state and local government have been forced to lay off employees, with the GOP crowing about shrinking government all the while. That's a reality that disproportionately impacts women and African Americans – something that Restore Our Future's ad neglects to mention when it's wielding accusations about women's unemployment "under Obama."
President Obama Was Talking About How Public-Sector Job Losses Are Dragging Down Recovery
Obama: "Where We're Seeing Weaknesses In Our Economy Have To Do With State And Local Government." From a transcript of an exchange between President Obama and a reporter:
Q    What about the Republicans saying that you're blaming the Europeans for the failures of your own policies?

THE PRESIDENT:  The truth of the matter is that, as I said, we've created 4.3 million jobs over the last 27 months, over 800,000 just this year alone.  The private sector is doing fine. Where we're seeing weaknesses in our economy have to do with state and local government — oftentimes, cuts initiated by governors or mayors who are not getting the kind of help that they have in the past from the federal government and who don't have the same kind of flexibility as the federal government in dealing with fewer revenues coming in.

And so, if Republicans want to be helpful, if they really want to move forward and put people back to work, what they should be thinking about is, how do we help state and local governments and how do we help the construction industry.  Because the recipes that they're promoting are basically the kinds of policies that would add weakness to the economy, would result in further layoffs, would not provide relief in the housing market, and would result, I think most economists estimate, in lower growth and fewer jobs, not more. [WhiteHouse.gov, 6/8/12]
Obama Clarified That He Didn't Mean The Economy At Large Is "Doing Fine." From the Huffington Post: "The president sought to clarify his remarks later Friday, saying it is 'absolutely clear the economy is not doing fine.' He continued, 'That's the reason I had a press conference. That's why I spent yesterday, the day before yesterday, this past week, this past month and this past year talking about how we can make the economy stronger. The economy is not doing fine. There are too many people out of work. The housing market is still weak, too many homes underwater and that's precisely why I asked Congress to start taking some steps that can make a difference.'" [HuffingtonPost.com, 6/8/12]
The Facts Back Up Obama's Statement. From the Huffington Post: "Obama's comments about jobs growth have some bearing. The economy has gained about 4.2 million private sector jobs since early 2010, putting payroll at about the same level as it was in January 2009. Since Obama took office, about 607,000 fewer people work in the public sector. State and local governments, unlike the federal government, generally have to balance their budgets, and with fewer revenues, spending cuts have forced layoffs." [HuffingtonPost.com, 6/8/12]
3.3 Million New Private-Sector Jobs Since Recession Ended, But 640,000 Government Employees Out Of Work
Since The Recession Ended In June 2009, The Private Sector Has Added 3.3 Million Jobs While Public-Sector Employment Has Fallen By Over 640,000. According to the Bureau of Labor Statistics, there were 107,933,000 private-sector jobs in June 2009, and 111,317,000 private-sector jobs in July 2012, an increase of 3,384,000 jobs. The BLS also reports that there were 22,570,000 Americans working in the public sector in June 2009, and 21,928,000 working in the public sector in July 2012, a decrease of 642,000 jobs. The private-sector gains and public-sector losses add up to a total increase of 2,742,000 jobs.
The following chart shows the cumulative private-sector job gains and public-sector job losses since the recession officially ended in June 2009:

[BLS.gov, accessed 8/3/12; BLS.gov, accessed 8/3/12; NBER.org, 9/20/10]
The Private Sector Has Added 4.5 Million Jobs Over 29 Consecutive Months Of Private-Sector Growth. The following chart shows the monthly change in private-sector jobs dating back to January 2008.

[BLS.gov, accessed 8/3/12; MSNBC.com, 8/3/12]
President Obama's Private-Sector Jobs Record Is Better Than President Bush's. Bureau of Labor Statistics data show President Obama has presided over a net increase of 1,057,000 private-sector jobs from February 2009 to July 2012, including more than 4.3 million over the past 29 consecutive months of private-sector growth.  By contrast, from February 2001 to January 2009, President Bush oversaw a net loss of 638,000 private-sector jobs. In just the first term of the Bush administration, from February 2001 to January 2005, private-sector employment collapsed by 905,000 jobs. [BLS.gov, accessed 8/3/12]
Women And African Americans Are Most Affected By Public-Sector Job Losses Obama Was Talking About
Women And African Americans "Disproportionately Affected By State And Local Government Budget Cuts." From the Economic Policy Institute: "The Great Recession created tremendous hardship for millions of Americans. One aspect of this recession and its aftermath has been particularly damaging for women and African Americans: the decision by many state and local governments to respond to diminished revenues and budget shortfalls by cutting public-sector jobs. Because women and African Americans have historically been overrepresented in public-sector employment, they have been disproportionately affected by state and local government budget cuts." [EPI.org, 5/2/12]
Women Comprised 70 Percent Of State And Local Government Job Losses Between 2007 And 2011. From the Economic Policy Institute: "The disproportionate share of women and African Americans working in state and local government has translated into higher rates of job loss for both groups in these sectors. Between 2007 (before the recession) and 2011, state and local governments shed about 765,000 jobs. Women and African Americans comprised about 70 percent and 20 percent, respectively, of those losses." [EPI.org, 5/2/12]
[NARRATOR:] America's jobless rate just went up again. But after a record forty straight months of unemployment over eight percent, President Obama insists: [PRESIDENT OBAMA CLIP:] "The private sector is doing fine." [NARRATOR:] Twenty-three million Americans can't find full-time jobs. Thirty percent have been out of work for over a year. And under Obama, nearly 800,000 more women are unemployed. [OBAMA CLIP:] "The private sector is doing fine." [NARRATOR:] Restore Our Future is responsible for the content of this message. [Restore Our Future via YouTube, 6/19/12]