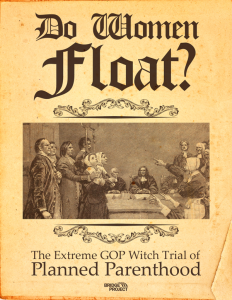 NEW REPORT RELEASE:
Do Women Float? The Extreme GOP Witch Trial of Planned Parenthood
Sen.Today, before the Republicans launch their first "witch trial" hearing on Planned Parenthood, American Bridge released a new, comprehensive report titled, "Do Women Float? The Extreme GOP Witch Trial of Planned Parenthood" connecting the eight House members from the "Select Investigative Panel on Infant Lives" with their long-held anti-choice biases and associations with radical, anti-choice donors and activists.
Despite a grand jury ruling the videos released by the radical, anti-choice group, the Center for Medical Progress, were doctored and manipulated, the panel is resuming its investigation to mount the Republicans' campaign to permanently defund Planned Parenthood, and ultimately eliminating a woman's right to choose.
Below are brief summaries of the members' public statements and actions:
The chair of the panel, Rep. Marsha Blackburn, has already pledged to defund "abortion businesses like Planned Parenthood, who profit from the destruction of human life." Blackburn supported a bill banning abortion after 20 weeks with no exceptions for rape, incest, or the life of the mother and has stated she only supports exceptions for rape or incest victims if the victims are forced to report the crime. She has been endorsed and supported by radical anti-choice  groups including the Susan B. Anthony List, the Family Research Council, and Live Action.
Rep. Joe Pitts is a "leading Congressional opponent of abortion rights," who called for defunding Planned Parenthood and overturning Roe v. Wade. Pitts sponsored radical bills such as one dubbed by women's health advocates the "Let Women Die" bill, which would allow hospitals to refuse a woman abortion care even if she would die without it.
Rep. Diane Black has already promised that the panel will be "similar" to the Benghazi committee (which so far has cost taxpayers $20 million). Black has been open about her radical anti-choice views, she called Planned Parenthood a "scandal-ridden abortion mill," and has said she does not support abortion exceptions for victims of rape or incest.
Rep Sean Duffy has stated that he is "100 percent prolife without exceptions." He has already supported attempts to  defund Planned Parenthood and accused the organization of "harvesting human organs for profit" and demanded that the FBI, DHS, DOJ, and "every agency" investigate its work.
Rep. Mia Love has accused Planned Parenthood of "killing babies" and demanded that federal funds "be completely withdrawn" from the organization.
Rep. Vicky Hartzler has stated that Planned Parenthood "must be stopped" and said she was working to "counter Roe v. Wade's culture of death."
Rep. Andy Harris is a "longtime foe" of abortion rights and a supporter of "personhood" laws.
Rep. Larry Bucshon has stated that he has "always supported ending federal funding.