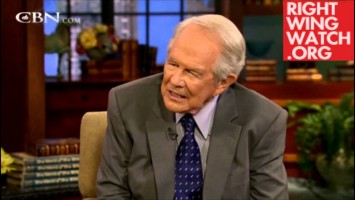 From the September 10, 2012, edition of The 700 Club, via Right Wing Watch:
TERRY MEEUWSEN (COHOST): This first one comes from Michael who says, "My wife has become a real problem. She has no respect for me as the head of the house. She insults me and she even went as far as stretching her hand to beat me. I've lost my self confidence. Her words hurt so much and she refuses to talk through our problems. Please tell me what I can do."

PAT ROBERTSON (HOST): Well, you could become a Muslim and you could beat her.

MEEUWSEN: But in lieu of that.

ROBERTSON: You don't want to go to Saudi Arabia?

MEEUWSEN: No, no.
Read more after the jump.