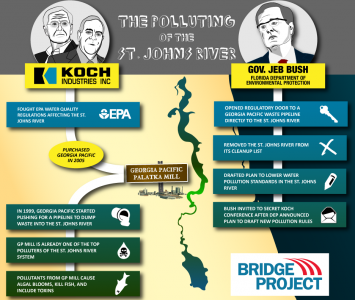 After Jeb Bush came into office, he didn't waste time in helping to negotiate an agreement with Georgia-Pacific over the company's pollution into the St. Johns River from their plant in Palatka, Florida. In 1999, days after Jeb Bush took office, GP and other paper mills began pushing for permission to build pipelines that would carry their pollution farther downstream. In 2001, Bush's Department of Environmental Protection came to an agreement with GP, granting a permit that would allow GP to build a pipeline only if they could not meet water quality standards. Bush actually touted the agreement to constituents in emails in 2002, writing that he was "proud of our agreement with Georgia Pacific," to one constituent, and telling another that "it is a win, win. the extremists are wrong again.'" In 2003, Bush told a Georgia-Pacific Vice-President that he was "a huge fan of what you are doing in Palatka County," at the start of proceedings to grant the company an easement on construction of the pipeline. Bush's remarks came as he presided over a meeting of the state cabinet in which the company was applying for an easement to the same permit he had negotiated and touted in the years before, coming to the company's defense several times and praising their efforts. Bush's actions seemed aimed at a successful attempt to block an amendment offered by then Attorney General Charlie Crist to that would have assured that the pollutant load from the Palatka plant would not increase if GP received the easement.
In October of 2005, Bush's environmental record began to receive more scrutiny, including his efforts to remove many Florida waterways from the state's cleanup list, including the St. Johns River. Koch Industries, meanwhile, was just weeks away from their November announcement of their $7 billion purchase of Georgia-Pacific. Georgia-Pacific's new ownership didn't waste any time. Before they had even fully finalized purchase of the company, Koch lobbyists and lawyers, were, suddenly, everywhere. On December 2, 2005, after more than a year of total disinterest in a water quality standards case brought against the EPA by Florida water activists and environmentalists, Koch Industries began to use GP's newly purchased resources to fight regulations in court. They, along with Smurfit, another paper company, and the Florida Pulp & Paper Association (which was staffed with then GP and soon to be Koch lobbyists), filed a motion to intervene in the case, saying that "GP… would be substantially, directly, and adversely affected by the relief sought by plaintiffs." The company and their purchased trade association then began to file several motions and actions designed at blocking the full implementation of EPA regulations that would hurt their bottom line.
Koch's strategy wasn't just limited to litigation. At the very same time, Bush's Department of Environmental Protection (DEP) conveniently began to lay groundwork for a backup plan to lower pollution standards in the St. Johns that synchronized perfectly with the ongoing court case. On December 16, 2005, Bush's DEP announced that they were drafting a new rule on pollution standards in the St. Johns. Bush's DEP was, in short, building an emergency loophole.
In yet another coincidence of timing, on January 17, 2006, Bush received a somewhat urgent email. Matt Schlapp, who had worked at very high levels in both of George W. Bush's campaigns and in the Bush White House before joining Koch Industries as a lobbyist after George W. Bush's successful reelection in 2004, emailed Jeb Bush with a timely request. Schlapp asked him to attend a secret Koch conference in Palm Springs, inviting him personally on behalf Charles Koch, saying "the Chairman of Koch Industries, Charles Koch, would love for you to be his guest at this conference." On January 20, 3 days after receiving the email from Koch Industries, Bush's Department of Environmental Protection issued draft standards for water quality and pollution in the St. Johns that were "less restrictive" than the previous standards.
Bush was being kept up to date on the case – on Sunday, January 22, Bush's deputy chief of staff, Deidre Finn, emailed Bush to let him know that the EPA would not be asking the judge for a delay in implementing pollution standards in the St. Johns. Finn was effectively telling him that his brother's EPA had admitted defeat in court, but that mediation was possible – as was the use of their state-designed loophole. The very next day, the EPA, while issuing the new pollution standard, specifically mentioned that though they were implementing the new rule, they were aware of Florida's simultaneous efforts to develop their own, and all but invited Florida to drive through the loophole that they were creating for themselves, saying "we recognize that the FDEP TMDL could be considered for approval in the future should the State adopt and EPA approves a site specific criterion."
Bush's DEP spent March and April defending their proposed rule against criticisms that it would allow GP and other polluters to choose for themselves how much pollution they could dump into rivers. Then, in late April, Bush's DEP signed off on the rule at multiple levels, receiving final approval from the "Agency Head," likely DEP Secretary Colleen Castille, on April 26.
There was only one major hurdle left to clear, and Bush jumped it easily on Koch's behalf. On May 25, the Bush-appointed Florida Environmental Regulation Commission (ERC) voted to unanimously pass approval of the rule, despite widespread public opposition at the meeting. Georgia-Pacific representatives gave their approval of the new standards during the meeting, and likely had a friendly audience. Kenneth Wright, the Bush-appointed chair of the ERC, worked at a law firm that had previously represented GP as a client. Beyond that, Wright represented the Bush-Cheney campaign during litigation around the contested 2000 Presidential election.
Finally, in October 2006, George W. Bush's EPA signed off on the last unapproved piece of Florida's new rules, successfully circumventing the EPA's loss in federal court.
Meanwhile the bad news for GP continued to pile up. In February 2006, The St. Petersburg Times revealed that Skip Livingston, a scientist who was known to be friendly to the paper industry, had his funding cut off by GP because they did not like what his results were saying. They had good reason: Livingston spent $82,000 of his own money to finish the study, "which blamed paper mill pollution for helping increase the St. Johns' toxic algae blooms." This didn't seem to phase Bush, who, along with DEP secretary Colleen Castille, held a meeting on March 1, 2006, with The St. Johns River Water Management District Met "to discuss and consider water management district issues including regulatory and non-regulatory matters."