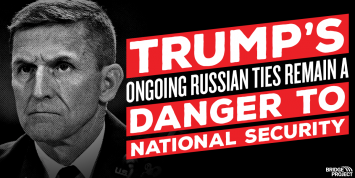 Bridge Project launched a new Facebook Canvas ad drawing attention to the ongoing national security threat posed by Donald Trump's close ties to Russia. The ad presents an immersive and detailed mobile account of Donald Trump and his administration's cozy relationship with Vladimir Putin and the Kremlin — an issue that highlights how careless Donald Trump has been with America's national security.
"Donald Trump may have fired Michael Flynn, but there are far more questions than answers about what President Trump knew and when he knew it. This matter is not going away anytime soon, and we fully intend to use every resource at our disposal to ensure that the American people get answers," said Shripal Shah, American Bridge Vice President.
Click to view Bridge Project's new Facebook Canvas.