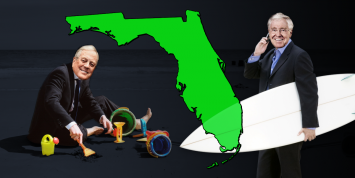 Through their decades in business and politics, Charles and David Koch have honed their methods for rigging the system in their favor, both through their national operations and activities. Their history in Florida is indicative of this overall multifaceted strategy, which includes lobbying and raising funds for politicians, using their advocacy network to sway public policy, and leveraging financial donations to universities to buy professors that promote their worldview. Time and time again, the Koch brothers' self-interested actions proved to be beneficial to their bottom line at the expense of hardworking Floridians.
One key aspect of the Kochs' strategy was cultivating relationships with high-profile Florida politicians who were sympathetic to their message. Senator and likely GOP presidential candidate Marco Rubio was the only U.S. Senator to receive a 100 percent score from Koch-group Americans for Prosperity in 2013. In that same year, Sen. Rubio was the keynote speaker at the group's "Defending the American Dream Summit" in Orlando. When Rubio served as Florida's House Speaker, AFP Florida Director Adam Guillette said, "Speaker Rubio is a strong ally." The relationship even goes both ways; Rubio's former campaign manager served as the national strategic director of Koch's Latino outreach organization, the LIBRE Initiative, before very recently taking a job with fellow Floridian Jeb Bush.
Similarly, Florida Governor Rick Scott can boast of strong ties with the Koch network. In 2011, Gov. Scott attended a secret invitation-only Koch meeting outside of Vail, Colorado, and in 2013, he spoke at the same summit in Orlando as Sen. Rubio. Americans for Prosperity organized rallies to support Gov. Scott's agenda during his term and used their intensive field operations in Florida to boost his reelection campaign in 2014.
An American Bridge analysis of Governor Jeb Bush's emails shows his friendly connections to several high-profile members of the Koch network. The relationship proved fruitful for the Koch brothers, as Bush intervened on their behalf multiple times during his tenure, most notably for a Georgia-Pacific pipeline that polluted the St. Johns River, damaging the ecosystem and the local economy that relied on a healthy river.
Days after taking office in 1999, Bush was receptive to Georgia-Pacific's request for permission to build pipelines that would carry their pollution further downstream to the St. Johns River. Years later, just as Koch Industries was announcing their $7 billion purchase of Georgia-Pacific in the fall of 2005, Bush was facing scrutiny for his environmental record, which included removing the St. Johns River from the state's cleanup list. Skip Livingston, a scientist who was known to be friendly to the paper industry, produced a study, "which blamed paper mill pollution for helping increase the St. Johns' toxic algae blooms."
While the company and their purchased trade association began to utilize litigation to block the full implementation of EPA regulations that would hurt their bottom line, Bush's Department of Environmental Protection (DEP) conveniently began to lay groundwork for a backup plan to lower pollution standards in the St. Johns that synchronized perfectly with the ongoing court case. In December 2005, just after Koch had announced their purchase of Georgia-Pacific, Bush's DEP announced that they were drafting a new rule on pollution standards in the St. Johns that was favorable to Georgia-Pacific.
Just a few weeks later, Bush was invited to attend a secret Koch conference in Palm Springs by Koch lobbyist Matt Schlapp, a former campaign and White House staffer for George W. Bush. The invitation came at the personal request of Charles Koch. Three days after receiving the invitation, Bush's Department of Environmental Protection issued draft standards for water quality and pollution in the St. Johns that were "less restrictive" than the previous standards. Bush's DEP spent March and April defending their proposed rule against criticisms that it would allow Georgia-Pacific and other polluters to choose for themselves how much pollution they could dump into rivers. In May, the Bush-appointed Florida Environmental Regulation Commission unanimously approved the standards.
In addition to his intervention on behalf of Georgia-Pacific, Gov. Bush also had longstanding ties to the Koch network through ALEC and State Policy Network affiliates, organizations that were incubated with and continually sustained by Koch money and support. In fact, during his tenure as governor, Bush personally approved the merger of his own education think tank with the James Madison Institute, a member of the State Policy Network. After his second term ended, James Madison Institute released the foundation and Bush once again served as its chairman.
For decades, the Koch brothers have used their advocacy organizations like Americans for Prosperity and its predecessor Citizens for a Sound Economy to promote policies that are harmful to Floridians. For example, AFP supported Rep. Paul Ryan's budget that proposed voucherizing Medicare, a plan particularly impactful to Florida. A 2012 Kaiser Family Foundation study of Ryan's budget found that in Florida "at least nine in 10 beneficiaries…would face higher premiums in their current plan."
The Koch Brothers are so singularly dedicated to their bottom line that AFP even drew the ire of other conservative groups by opposing a proposed ballot initiative with broad support that would open Florida up to the solar industry, a move that would threaten Koch's oil and gas operations. Conservatives for Energy Freedom co-founder Debby Dooley criticized AFP's efforts by saying, "You don't throw your principles out the window to benefit your corporate benefactors."
In addition to looking out for their own interests, the Koch brothers proved themselves willing to advocate on behalf of corporations that donate to their organizations. In 1998, a federal project from the Army Corps of Engineers to restore the everglades put thousands of acres of land used for growing sugar cane at-risk for reclamation. Just as Citizens for a Sound Economy was taking $700,000 from the sugar industry, the group founded a Florida-based chapter and began advocating against the everglades project, allowing industry representatives to stay conveniently silent and feign support of the popular project.
Another Koch brothers' strategy is to impose their political philosophy by donating to universities and insisting their financial support "go towards hiring professors, building economic research centers that promote capitalism or supporting research about libertarian politics." In the last decade or so their donations to universities across the country ballooned from only seven schools in 2004 to 254 in 2014. A Tampa Tribune columnist described the agreement surrounding their giving to Florida State University where "Koch is accorded virtual veto power for its $250,000 per year" as "Too little money for too much input. A classic lose-lose."
The Koch brothers have used their vast fortune to advance their own self-interest in the Sunshine State. From polluting the environment, to attacking Social Security and Medicare, to undermining public universities, everything they do is about making more money for themselves. Without proper checks and balances on the Koch network, they'll continue to assert their oversized influence in Florida and across the country.