Today American Bridge's Women's Rights Initiative released groundbreaking polling results on how the #MeToo movement and reproductive freedom are driving historic voter enthusiasm  and political engagement. You can read the full memo HERE.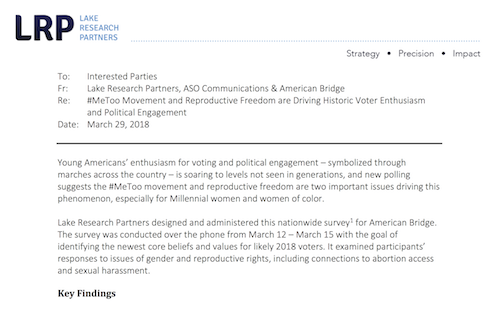 Key findings included:
#MeToo is viewed positively and motivating women to vote. Sixty-three percent of voters agree that the #Metoo movement has empowered women and girls. This is especially high among Millennial and African-American women. 
Reproductive freedom is a top voter value in 2018. Seventy-five percent of voters, including 84 percent of Millennial women, strongly agree that everyone must have the freedom to decide whether and when to become a parent. American voters remains staunchly pro-choice at 52 percent, with even higher numbers among Millennial women and African-American women. 
Enthusiasm is spreading "virally" through Millennial voters motivated by #MeToo and reproductive freedom. The Trump effect has created a surge in voters' support for reproductive rights, and across all demographics, a majority of women are very likely to encourage friends and family to vote – including 73 percent of African-American women, 53 percent of Latinas, and 55 percent of Millennial women. 
"This research confirms that we're experiencing a powerful, lasting movement across the country," said Dawn Huckelbridge, director of American Bridge's Women's Rights Initiative. "Women, particularly Millennial women and women of color, are a strong voting bloc, and the attacks on women – from sexual harassment and assault to denying access to reproductive health care – aren't going unnoticed. In fact, it's building the resistance."
Lake Research Partners designed and conducted the nationwide survey of likely 2018 voters for American Bridge.