TO: Interested Parties
FROM: Eddie Vale
RE: Sunny California, Dark Money: Walker, Cruz, Huckabee Cozy Up To Kochs, ALEC
DATE: July 22nd, 2015
After last weekend's Trumped-up circus in Iowa, Scott Walker, Mike Huckabee, and Ted Cruz are taking the Republican cattle call circuit behind closed doors in sunny San Diego, California.  Unfortunately for the middle class, this isn't your ordinary speech-a-thon:  it's the American Legislative Exchange Council, a Koch-powered bill mill where corporate interests meet policymakers in secret to find ways to warp the public interest in favor of bigger profits.
The Kochs have been involved in ALEC for "decades" and donated an "untold amount" of money along with chairing the board.  After years of building influence and padding their bottom line, ALEC is reaping the benefits of being part of the Koch primary and hosting Scott Walker, Ted Cruz, and Mike Huckabee this week as they seek to boost their respective presidential campaigns.
Look at all those Koch groups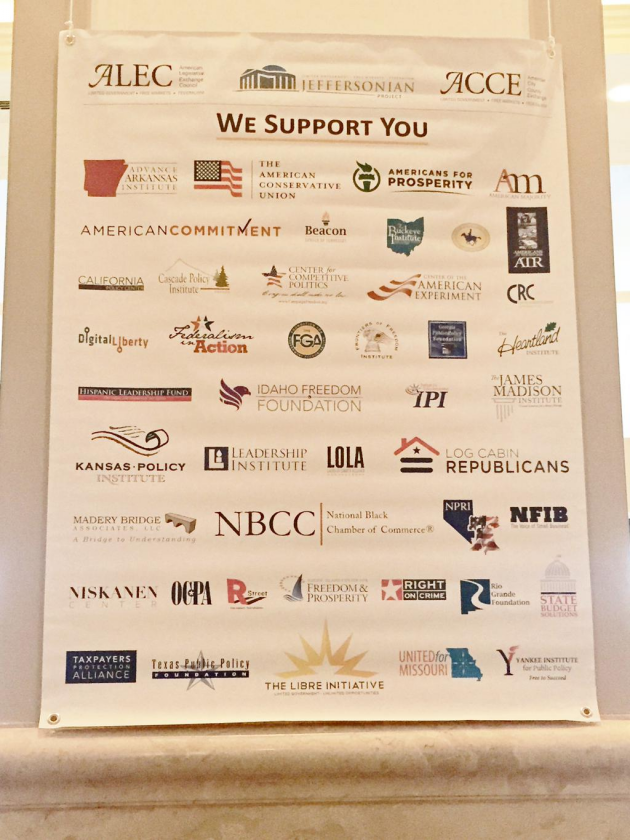 But there's a cost to all that Koch cash:  ALEC has opposed increases to the minimum wage, sought to weaken overtime pay, and even fought against paid sick days–and expects candidates to get in line with their agenda.  It's a heavy lift for any legislator on the campaign trail, but after taking heat for rank hypocrisy on dark money in 2014, Thursday morning's "dark money debate" reads more like a threat to do as ALEC says than a thoughtful discussion.
Here's what can we expect to hear (if the public ever hears their interactions with this secretive organization at all) at this policy-heavy cattle call:
Scott Walker
Wisconsin Governor Scott Walker could echo the Hair Club for Men when he walks on stage at ALEC — he isn't just an attendee, he's also a former member!  Walker makes no apology for having carried several ALEC-driven bills in the state legislature, a leading indicator of massive Koch investment in his campaigns for governor.  And Walker sealed the deal once in office by delivering on ALEC and Koch priorities like the notorious Act 10 and his surprise signing of so-called Right to Work legislation. With a clear indication that campaign promises are no hurdle when there's checks to be cashed, Walker will be poised to reap a financial windfall — and show voters exactly where his priorities lie.
Mike Huckabee
Former Arkansas Governor Mike Huckabee is looking for a financial and political boost if he hopes to be an effective candidate and make the first GOP debate, and he'll be counting on emphasizing his deep political ties to ALEC and the Kochs to deliver it.  ALEC's National Chairman, Texas State Representative Phil King, sat in the leadership of Huckabee's 2008 campaign, and the founder of the Koch-aligned American Future Fund left that organization to run Huckabee's SuperPAC.
Ted Cruz
The current leader in the Koch primary (at least by hard campaign dollars) is Texas Senator Ted Cruz, who says Charles Koch dubbed him the "grass-roots conservative" that the Republican party needs.  From the minimum wage to the Ex-Im Bank, Cruz has sold out hard for the Kochs. Don't look for him to back off now — once again, he'll tell ALEC that his best advice is to "stand your ground."