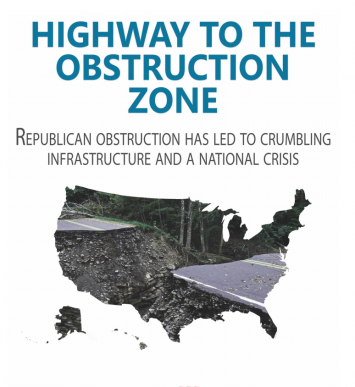 Bridge Project today released a report on how Republican obstructionism and the Koch agenda is causing our infrastructure to crumble and creating a self-inflicted national crisis.
Republicans punted on the highway bill last summer by funding a short-term solution that is set to expire at the end of May. It's starting to look like the GOP leadership will once again bow to pressure from the Tea Party and the Koch brothers by trying to pass another short-term fix.
Passing the highway bill used to be a bipartisan effort, until the Koch brothers' Tea Party mentality seeped into the mainstream Republican Party — rejecting the idea of federally funded infrastructure entirely.
As the Highway Trust Fund is once again nearing insolvency, summer construction projects are under threat and jobs are on the line. According to Bond Buyer, "States have cancelled or deferred $800 million of highway projects and have put another $1.8 billion on the chopping block as the federal transportation funding law is set to expire in [May]."
As the House & Senate work toward a compromise on the transportation bill, Republicans in Congress should stop playing chicken with infrastructure spending and negotiate a long-term fix to fund these vital projects that boost our economy and keep us safe.