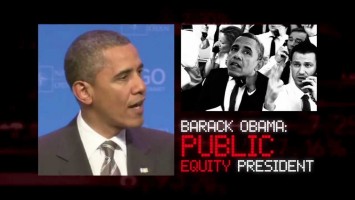 In an ad titled "Public Equity," American Crossroads counters President Obama's criticism of Mitt Romney's business record by claiming the Obama administration's "failed investment strategies" are to blame for lost jobs and wasted tax dollars. Crossroads starts by maligning Obama's auto bailout, which is widely credited for saving the automotive industry; in fact, the industry has gained over 100,000 jobs under the Obama administration. The ad goes on to attack the government's investment in Solyndra while obscuring the facts about Department of Energy's loan guarantee program, using clips of a factually flawed news report to overstate the riskiness of the government's investments.
The Auto Bailout Worked And The Industry Has Gained Jobs Under Obama
Under Obama, The Automotive Industry Has Gained "More Than 100,000" Jobs. According to the Washington Post's Glenn Kessler: "The BLS data show that much of the decline in auto industry employment took place in 2008, before Obama became president. Just in 2008, some 254,000 jobs disappeared in vehicle and vehicle parts manufacturing and 211,000 at vehicle dealerships. The numbers are equally grim if you just look at auto manufacturing and dealerships. But since January 2009, when Obama took office, overall there has been an increase in jobs. The number of jobs hit a low point in November 2009, but then it has slowly inched upward so that Obama can point to the auto industry and says [sic] there has been a net gain. In vehicle and vehicle parts manufacturing, the total number of jobs has increased by 73,000. For dealers, the gain has been nearly 30,000. So, all told, that's more than 100,000 — instead of a decrease of 100,000." [WashingtonPost.com, 5/18/12]
Michigan Gained Jobs In 2011 For The First Time In A Decade. From Bloomberg: "Last year, Michigan gained 66,000 net jobs, the first increase since the turn of the century, according to a Jan. 13 state report. The University of Michigan's Research Seminar in Quantitative Economics predicts a net rise of 101,300 by 2015." [Bloomberg via Businessweek.com, 2/17/12]
Auto Bailout Saved 1.4 Million American Jobs In 2009-2010. From the Wall Street Journal: "The Center for Automotive Research said today the government's bailouts of the U.S. auto industry spared more than 1.14 million jobs last year alone, and prevented 'additional personal income losses' of nearly $97 billion combined for this year and last. Another 314,400 jobs were saved this year thanks to the $80 billion in taxpayer lifelines extended to GM, Chrysler, and the GMAC and Chrysler Financial financing businesses, CAR said. The research organization based its conclusions on the potential impact of auto-industry collapse for jobs at U.S. auto makers and suppliers, and cascading effects on the economy at large." [Wall Street Journal, 11/17/10]
GM Has Returned To Being The Global Leader In Car Sales. From CNNMoney: "General Motors is once again No. 1 in global auto sales, after three years out of the top spot. It's a comeback that became official Thursday when it reported final 2011 sales figures of 9 million vehicles, its best sales total since 2007." [CNNMoney, 1/19/12]
Solyndra Loan Approval Process Started During The Bush Administration
In 2006, Under The Bush Administration, Solyndra And 15 Other Applicants Were Selected To Submit Full Applications. From testimony of Jonathan Silver, executive director of the Department of Energy's Loan Programs Office, before the House Energy and Commerce Subcommittee on Oversight and Investigations: "The 2006 solicitation resulted in 143 submissions. The loan program staff and others at the department reviewed those for eligibility, which is a thinner review than the full due diligence, and recommended 16 applications to file a full application. A dozen did so. Solyndra was one of those. And the department conducted due diligence on all of those 11." [Jonathan Silver Testimony via Nexis, 9/14/11]
Under The Obama Administration, The Loan Proceeded Along The Same Timeline Laid Out Under The Bush Administration. From testimony of Jonathan Silver, executive director of the Department of Energy's Loan Programs Office, before the House Energy and Commerce Subcommittee on Oversight and Investigations: "After the Obama Administration took office, the loan programs' staff, and their advisors, continued their comprehensive review of the transaction and, in March 2009, on the exact timeline that had been developed during the Bush Administration, the program issued Solyndra a conditional commitment for a $535 million loan guarantee. Subsequently, in September 2009, following several more months of rigorous and comprehensive due diligence and documentation by the loan programs' staff and external advisors, and the raising of almost $200 million of additional private investment by the company, the transaction reached financial close and DOE formally issued its loan guarantee." [Jonathan Silver testimony, 9/14/11]
The Program That Backed The Solyndra Loan Was Designed To Take Some Losses
The Loan Guarantee Program Was Structured To Withstand – Even Expect – Some Defaults. From a blog post by Michael Mendelsohn, a Senior Financial Analyst at the Department of Energy's National Renewable Energy Laboratory: "Importantly, the DOE Loan Guarantee program was never expected to be risk-free, but rather was designed to support a portfolio of promising energy technologies that, when combined, represent a manageable level of risk. Chadbourne's Hansen argues that, 'if the Loan Guarantee program has no defaults, it's simply not taking on the risk it was designed to.  The overall risk of the portfolio is the critical metric, and for that, given the DOE's conservative assessment of the projects, the credit subsidy costs provided under ARRA should provide the taxpayer plenty of insurance.'" [Financere.NREL.gov, 12/28/11]
Solyndra Was "Barely 1%" Of DOE's Clean Energy Portfolio. From Time's "Swampland" blog: "Nobody's going to care that all successful loan programs have failures, that the Solyndra venture was barely 1% of the Energy Department's $40 billion clean-energy portfolio, that there will still be over $2 billion in reserves for busted loans no matter how Solyndra shakes out." [Time's "Swampland," 9/14/11]
Congress Set Aside $10 Billion For Losses. From Businessweek: "Congress set aside $10 billion in the clean-energy and auto loan programs for possible losses, and the Energy Department had initially anticipated as much as $5 billion in losses, [White House Spokesman Eric] Schultz said in an e-mail." [Businessweek, 2/13/12]
News Report Warning Of 11 Other "Risky" Green Energy Investments Is Deeply Flawed
Crossroads uses clips from a January 13, 2012, CBS News report claiming that 11 companies other than Solyndra that received loan guarantees from the Department of Energy are bankrupt or financially unstable. Yet of the companies identified in the report, there's only evidence that one, aside from Solyndra, is likely to cost taxpayers money by defaulting on its loans. 
News Report Excerpted By Crossroads Only Identifies Eight Green Energy Companies, Including Solyndra. Despite asserting that a total of 12 clean energy companies backed by the Department of Energy have declared bankruptcy or are experiencing "serious" financial trouble, the CBS News report excerpted by the Crossroads ad only identifies eight. CBS lists Beacon Power, Evergreen Solar, SpectraWatt, AES' Eastern Energy, and Solyndra as the companies that have gone bankrupt, and names only Nevada Geothermal, SunPower, and First Solar as those experiencing difficulties. [CBS News, 1/13/12]
Evergreen Solar Did Not Receive A Federal DOE Loan Guarantee. From the New York Times: "Aided by at least $43 million in assistance from the government of Massachusetts and an innovative solar energy technology, Evergreen Solar emerged in the last three years as the third-largest maker of solar panels in the United States. But now the company is closing its main American factory, laying off the 800 workers by the end of March and shifting production to a joint venture with a Chinese company in central China. Evergreen cited the much higher government support available in China. […] Evergreen has received no federal money." [New York Times, 1/15/11]
Evergreen Got $2.5 Million In Subsidies From Massachusetts While Romney Was Governor. From Politico: "Just under three weeks into his term as governor, Romney brought a $1.5 million check to Konarka, a well-connected solar startup in Lowell, Mass., itching to buy a new pilot production assembly line. Four other companies also scored renewable energy subsidy awards that same day, including Evergreen Solar, which won $2.5 million for a major expansion and to cover operating losses as it tried to become profitable." [Politico, 2/6/12]
A Different AES Subsidiary, Not Bankrupt AES Eastern Energy, Received The Federal Loan Guarantee. According to a December 31, 2011, Business Wire report: "AES Eastern Energy Limited Partnership (AES Eastern Energy) and 13 affiliated entities today filed petitions for relief under Chapter 11 in the United States Bankruptcy Court for the District of Delaware. AES Eastern Energy and its affiliates are indirect, wholly owned subsidiaries of The AES Corporation. The AES Corporation is not included in the bankruptcy filing." On August 2, 2010, the Department of Energy, announced: "Energy Secretary Steven Chu today offered AES Energy Storage, LLC a conditional commitment for a loan guarantee for $17.1 million to support the construction of a 20 megawatt (MW) energy storage system using advanced lithium-ion batteries.  The AES project, located in Johnson City, New York, will help provide a more stable and efficient electrical grid for the state's high-voltage transmission network." [BusinessWire.com, 12/31/11; Energy.gov, 8/2/10]
DOE-Backed AES Energy Storage Facility Is Already Partially Running, And Is Generating Revenue. From CNET: "A group of truck-size battery banks are delivering quick bursts of power to the electricity grid in upstate New York. AES Energy Storage, a subsidiary of power generation company AES, last week said that the first 8 megawatts of a planned 20-megawatt battery grid storage system are now online in Johnson City, N.Y. The full project is expected to be completed later this year. […] The Johnson City project received a $17.1 million loan guarantee from the Department of Energy, which has funded a number of energy storage-related projects. […] AES Energy Storage is making revenue on the project already since it gets paid for regulating the frequency, one of a few ancillary services provided to grid operators to maintain reliability." [CNET.com, 1/11/11]
Nevada Geothermal's DOE Loan Guarantee Was Specifically For The Blue Mountain Geothermal Project In Humbolt County, Nevada. From the Department of Energy's Loan Programs Office: "Energy Secretary Steven Chu today announced a partial guarantee for a $98.5 million loan to the 49.5 megawatt Blue Mountain geothermal project in Humboldt County in northwestern Nevada. The loan guarantee is being issued to John Hancock Financial Services to support a loan to a subsidiary of the Nevada Geothermal Power Company. 'Our support for the Blue Mountain project is part of the Administration's commitment to reducing carbon emissions while creating clean energy jobs,' said Secretary Chu. […] The Blue Mountain project consists of a geothermal well field and fluid collection and injection systems that enable energy to be extracted from rock and fluid below the Earth's surface, and a power plant that converts geothermal energy into electricity. The energy produced by the power plant is free of greenhouse gas emissions and other air pollutants. The project has a 20-year power purchase agreement to sell electricity and renewable energy credits to the Nevada Power Company." [LPO.Energy.gov, 9/7/10]
Nevada Geothermal's Financial Troubles Stem From A Different Private Loan That Isn't Backed By DOE.  From the Northern Nevada Business Weekly: "NGP, based in Vancouver, also is working to restructure $91.3 million in mezzanine financing with EIG Global Energy Partners. Declining hot water temperatures led to a decline in power production at the Faulkner 1 plant, and in December Nevada Geothermal Power missed its scheduled loan repayment obligations to EIG Global Energy Partners. The company has engaged Canaccord Genuity as a financial advisor to assist in its debt restructuring plans. NGP also owes $91.7 million in senior financing to John Hancock Life Insurance — a loan that still is in good standing, says Paul Mitchell, investor relations manager with NGP." [Northern Nevada Business Weekly, 1/23/12]
DOE: Nevada Geothermal Is Blue Mountain's Parent Company, And Its Debts Do Not Affect Blue Mountain's Ability To Pay Back Its Government-Backed Loan. From the Department of Energy: "Very importantly, the loan guarantee is for the Blue Mountain power plant, not Nevada Geothermal, which is the parent company.  They are two different companies.  Neither the parent company's debts, nor those of any other company in its ownership structure, affect the ability of the power plant to repay its obligations from the revenue it generates under its long term sales contract.  The power plant cannot be used as collateral for any other debt.   What matters is that the power generated by the Blue Mountain plant – and the revenue generated under its long term guaranteed sales contract – will be enough to repay the loan." [Energy.gov, 10/3/11]
DOE: Blue Mountain Plant Is Generating Enough Power To Pay Back Its DOE-Backed Loan. From the Department of Energy: "[L]ast year, the Department of Energy provided a $79 million loan guarantee for the Blue Mountain power plant in northeastern Nevada.  While the plant didn't initially generate as much power as the operators had hoped, it is generating more than enough clean, renewable power to repay its loan even if the power output were to continue to decline.  Indeed, the company has a long term contract in place with a local utility that has agreed to buy the power for a set price – which means it will have a stream of revenue in place to pay back the loan.  And in fact, the company has been consistently making its payments on time and in full." [Energy.gov, 10/3/11]
SpectraWatt Did Not Receive A Federal Loan Guarantee – It Got A Grant, Which Means Taxpayers Aren't On The Hook For A Default. From ABC News: "In 2009, SpectraWatt secured a $500,000 grant from the DOE's National Renewable Energy Laboratory Photovoltaic Technology Pre-Incubator program." [ABC News, 3/6/12]
Technology Developed By SpectraWatt Is Now Being Used By A Different Company. From the Portland Business Journal: "A Portland startup developing technology to make LED lights more efficient and less expensive has landed a $3 million venture capital round led by local investor groups. Pacific Light Technologies, working from the Portland State University Business Accelerator, has closed $2 million of the Series A round led by the Oregon Angel Fund and Portland-based venture capital firm Pivotal Investments. CEO Ron Nelson, who also contributed to the round, said another $1 million has been committed and should close by the end of July. The 13-person company is developing a technology Nelson says will allow manufacturers of long-lasting LED lights to provide better light output while slashing the cost potentially by more than half. […] Pacific's technology was borne out of now-defunct Intel Corp.-backed solar energy startup SpectraWatt Inc. Backed by Intel Capital, SpectraWatt launched in 2008 with plans to build solar power modules out of a plant in Hillsboro. Nelson said SpectraWatt attempted to apply quantum dots to solar energy cells to improve efficiency. It didn't pan out — the company later moved to New York, shut down in 2010 and filed for Chapter 11 bankruptcy last year. Though market conditions were credited for the company's demise, Nelson said the quantum dots used by SpectraWatt were moisture sensitive and didn't adapt well to solar cells. So SpectraWatt went about refining the process of making quantum dots under the guidance of Juanita Kurtin, the company's vice president and head of research and development at the time who is now Pacific Light's chief technology officer. Kurtin helped found Pacific Light in May 2011 with the aid of the Oregon Angel Fund and, soon, a $250,000 research and development grant from the Oregon Nanoscience and Microtechnologies Institute. In January the company acquired the quantum dot intellectual property from SpectraWatt. The company manufactured its first quantum dots at the PSU lab last summer and has been sampling the technology with major lighting industry companies since." [Portland Business Journal via SustainableBusinessOregon.com, 5/4/12]
SunPower Sold DOE-Backed Project To NRG Energy, Which Is On The Hook For The Loan. From the San Jose Mercury News: "The $1.2 million federal loan guarantee announced Sept. 30 is for the construction of a 250-megawatt solar farm in San Luis Obispo County. Although SunPower applied for the loan guarantee, NRG Solar of Carlsbad subsequently bought the California Valley Solar Ranch project and is the sole party to the federal backing. SunPower will design and construct the farm, and the firms will jointly operate it for two years until NRG takes over. Pacific, Gas and Electric Co. signed a long-term fixed-price contract to buy the power. 'The risk to taxpayers is very low,' independent alternative energy investment analyst Daniel Ries said. 'This loan guarantee is for a specific project using known technology that has a cash flow to pay off the debt. That's a very different scenario than Solyndra, which was for the manufacture of unproven technology that required building a plant for the first time.'" [San Jose Mercury News via Nexis, 10/18/11]
First Solar Sold All Three Of Its DOE-Backed Projects And Is No Longer Responsible For Loan Payments. From Electric Utility Week: "First Solar, the world's largest manufacturer of thin-film solar panels, grabbed the lead as developer of utility-scale solar projects. The panel-maker, with total manufacturing capacity of almost 2,300 MW, emerged as perhaps the biggest winner in the Department of Energy's recently concluded 1705 loan guarantee program, closing on three guarantees for big solar generation projects that the company immediately sold to NRG Energy, Exelon and NextEra Energy Resources and project partner GE Energy Financial Services. […] The sale of the projects that recently received over $3 billion in loan guarantees from DOE means the utilities are on the hook to repay the loans." [Electric Utility Week via Nexis, 10/24/11]
Beacon Power Is Selling Its Assets And Will Likely Be Able To Pay Back 70 Percent Of DOE Loan. From CNET: "Beacon Power, which had received a government loan and then went bankrupt, has found a buyer, in a deal that will recoup some of the loaned money. The flywheel energy storage company today said it has reached a deal with private equity firm Rockland Capital to buy most of its assets for $30.5 million. That includes Beacon Power's intellectual property around flywheel grid storage and a New York energy storage project partially financed by a Department of Energy loan guarantee. If the deal is finalized, the Energy Department stands to recover 70 percent of the loan, according to Energy Department spokesperson Damien LaVera." [CNET.com, 2/6/12]
[NARRATOR:] Obama's attacking private equity. But what's his record on public equity investing? [OBAMA:] "…your job is not simply to maximize profits. Your job is to figure out how everybody in the country has a fair shot." [NARRATOR:] But under the government auto bailout investment, 2,000 dealerships were shuttered, wiping out over 100,000 American jobs. One U.S. automaker sold off to a foreign competitor. [OBAMA:] "Your job is to think about those workers who get laid off." [NARRATOR:] Obama invested our tax dollars in Solyndra, lost half a billion – 1,100 workers laid off without fair warning. [NEWS ANCHOR:] "Turns out that risky investment strategy did not stop there." [REPORTER:] "Eleven green energy companies besides Solyndra that together got billions of tax dollars then declared bankruptcy or are suffering other serious financial issues. Most surprising perhaps is how bad off the government knew some of those investments were before committing all that money." [NARRATOR:] Failed investment strategies, jobs eliminated, billions lost. Public equity President Obama. Playing Wall Street games with our money. [OBAMA:] "This is not a distraction. This is what this campaign's going to be about." [American Crossroads ad via YouTube, 5/29/12]