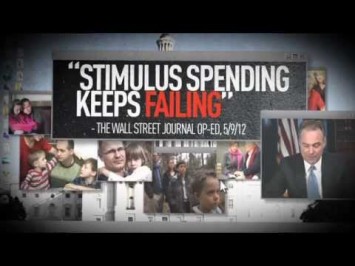 Crossroads GPS labels Virginia Senate candidate and former governor Tim Kaine "a cheerleader for massive spending" based on his support for the Recovery Act and time as DNC chairman. The ad relies on tired misinformation about the stimulus package, which created millions of jobs, and the cherry-picked projects Crossroads holds up as evidence the bill was wasteful are misrepresentations of the law's allocation of funds.
Recovery Act Created Millions Of Jobs, Boosted GDP, And Cut Taxes
Recovery Act "Succeeded In…Protecting The Economy During The Worst Of The Recession." From the Center on Budget and Policy Priorities: "A new Congressional Budget Office (CBO) report estimates that the American Recovery and Reinvestment Act (ARRA) increased the number of people employed by between 200,000 and 1.5 million jobs in March. In other words, between 200,000 and 1.5 million people employed in March owed their jobs to the Recovery Act. […] ARRA succeeded in its primary goal of protecting the economy during the worst of the recession. The CBO report finds that ARRA's impact on jobs peaked in the third quarter of 2010, when up to 3.6 million people owed their jobs to the Recovery Act. Since then, the Act's job impact has gradually declined as the economy recovers and certain provisions expire." [CBPP.org, 5/29/12]
At Its Peak, Recovery Act Was Responsible For Up To 3.6 Million Jobs. According to the nonpartisan Congressional Budget Office:
CBO estimates that ARRAs [sic] policies had the following effects in the third quarter of calendar year 2010:

They raised real (inflation-adjusted) gross domestic product by between 1.4 percent and 4.1 percent,
Lowered the unemployment rate by between 0.8 percentage points and 2.0 percentage points,
Increased the number of people employed by between 1.4 million and 3.6 million, and
Increased the number of full-time-equivalent (FTE) jobs by 2.0 million to 5.2 million compared with what would have occurred otherwise. (Increases in FTE jobs include shifts from part-time to full-time work or overtime and are thus generally larger than increases in the number of employed workers). [CBO.gov, 11/24/10]
Recovery Act Included $288 Billion In Tax Cuts. From PolitiFact: ""Nearly a third of the cost of the stimulus, $288 billion, comes via tax breaks to individuals and businesses. The tax cuts include a refundable credit of up to $400 per individual and $800 for married couples; a temporary increase of the earned income tax credit for disadvantaged families; and an extension of a program that allows businesses to recover the costs of capital expenditures faster than usual. The tax cuts aren't so much spending as money the government won't get — so it can stay in the economy." [PolitiFact.com, 2/17/10
The Recovery Act Funded The National Science Foundation
Stimulus Didn't Directly Fund Ant Research – It Funded National Science Foundation. According to PolitiFact: "But [the Recovery Act], it turns out, didn't release any money to ant research — not directly. The federal stimulus gave $3 billion to the National Science Foundation, which otherwise had a budget of about $6.5 billion in 2009, according to the foundation's Website. The foundation is distributing the money using the same peer-review process with which it normally decides on which research to fund." [PolitiFact.com, 9/17/10]

NSF Gave Grant To Research Looking At Ants As Climate Change Indicators, Creating 16 Jobs. According to PolitiFact: "As it turns out, one scientist's study on ants of the Southwest Indian Ocean and East Africa made the cut. PolitiFact Oregon caught up with Brian Fisher, the project's leader and curator of entomology at the California Academy of Sciences, to pick his brain about the recent political celebrity of ants. […] While ant research might not seem like an obvious target for government funds, Fisher provides a logical defense. Ants, Fisher says, offer insight into climate change, the spread of disease and natural disasters. 'You can't monitor every single living thing, (but) there are key groups that can serve as indicators for other taxa, ants being one of them,' he said. 'Without them, we wouldn't have a functioning ecosystem.' It's also worth noting that the project has so far helped employ 16 people, at Fisher's last count." [PolitiFact.com, 9/17/10]
Office Upgrades Cited In Ad Were Instigated By Kansas Government Through "Build America Bonds" Program
The Crossroads GPS ad's claim that the stimulus paid to "upgrade politicians' offices" cites a report by Sens. McCain and Coburn on Recovery Act-funded projects they found wasteful, including financing for the renovation of the Kansas Statehouse.
Not Direct Funding, But A "Build America Bond" That Will Save Kansas Money In Interest Payments. From PolitiFact: "The basis for this claim is a project in [sic] to renovate the Kansas State Capitol, a historic structure that dates to the late 1800s. A major renovation has been going on since 2000 to improve the building's wiring, plumbing, heating and air conditioning. And yes, the legislators also wanted more office space and upgraded meeting rooms, according to a 2009 Associated Press report. Hence 'office upgrades for politicians.' The overall project is expected to cost upwards of $285 million. The $39 million from the stimulus bill is not direct funding. Instead, it comes from a special bond program, Build America Bonds, created by the stimulus to help local governments save money on building projects. 'As a result of this federal subsidy payment, state and local governments will have lower net borrowing costs and be able to reach more sources of borrowing than with more traditional tax-exempt or tax credit bonds,' said a statement on the U.S. Treasury Department website. Last summer, state officials decided to use the program to pay for the project, and $39 million is the amount that the federal bond program subsidizes. A Kansas official said that it would save the state about $500,000 in debt service costs. 'There's not stimulus money that's directly going to the renovation,' said Amy Jordan Wooden, press secretary for Kansas Gov. Mark Parkinson. 'It gives us a lower interest rate than we could get on the market.'" [PolitiFact.com, 9/20/10]
Build America Bond Program Allowed Financing For $180 Billion Of State And Municipal Projects At A Time When Localities Couldn't Find Private Financing Due To The Wall Street Crisis. From CNNMoney: "Nearly $180 billion in debt has been issued under the program since its inception in April 2009, according to Thomson Reuters. Build America Bonds account for more than a quarter of this year's municipal bond issuance, helping boost the sector to a record level. The Obama administration created the program last year to help state and local agencies regain access to the bond markets after the financial crisis made it tough for them to borrow. These agencies depend on issuing tax-exempt debt to finance capital projects, but investors were demanding high interest rates amid the global financial meltdown. Under the Build America Bonds program, the agencies issue taxable bonds with the federal government subsidizing 35% of the interest payments. The money has been used to rebuild highways, shore up bridges, upgrade rail systems and put up college dormitories. 'In some cases, it allowed them to go ahead with vital infrastructure projects that they needed,' said Daniel Berger, senior market strategist at Thomson Reuters Municipal Market Data. 'This has given them access to capital to fund these projects.'" [CNNMoney, 12/22/10, emphasis added]
Build America Bonds Led To Job Growth In Sub-Sectors Of Struggling Construction Industry. From CNNMoney: "The Build America Bonds program helped spur growth in hiring of heavy and civil construction workers, the only category of builders not to shrink over the past year, according to Ken Simonson, chief economist of the Associated General Contractors of America. The initiative, along with other Recovery Act funding for infrastructure, helped boost public construction spending by 2.2% over the past year, Simonson said. By comparison, private non-residential construction spending plummeted by 21%. 'Build America Bonds unquestionably helped states to do more construction than they would have been able to,' he said. 'I am worried public construction will take a hit in 2011.'"[CNNMoney, 12/22/10]
"Reckless"? Spending Growth Under Obama Is Low
January 2009 (Pre-Obama): Federal Spending Projected To Spike To $3.5 Trillion Without Any Policy Changes. In January 2009, the Congressional Budget Office projected: "Without changes in current laws and policies, CBO estimates, outlays will rise from $3.0 trillion in 2008 to $3.5 trillion in 2009." [Congressional Budget Office, "The Budget and Economic Outlook: Fiscal Years 2009 to 2019," January 2009]
Accounting For Inflation And President Obama's Impact On FY 2009, Spending Will Have Grown By Just 1.7 Percent From 2009 To 2012. According to Michael Linden, Director of Tax and Budget Policy at the Center for American Progress:
[I]n January 2009, before President Obama had even taken office, the Congressional Budget Office projected that federal spending would exceed $3.5 trillion for fiscal year 2009, half a trillion more than the government spent in 2008. Again, that was BEFORE President Obama event took office. It's reasonable to use that number as our best guess at what spending would have been in FY2009 under ANY president. […]

Of course, the CBO's projections aren't perfect. They change as the economy changes and as laws change. Fortunately, CBO also tells us in subsequent reports how and why its previous estimates have changed. We can use that to understand how much of the total federal spending in fiscal year 2009 was attributable to legislative changes that occurred AFTER President Obama took office.

The answer is that out of a total of $3.5 trillion actually spent in FY09, only $165 billion, less than 5 percent, was the result of policy changes signed into law by President Obama.

In other words, probably the best baseline against which to judge spending under Obama is $3.5 trillion (the amount actually spent in 2009) minus $165 billion (the added amount Obama himself actually approved): $3.35 trillion. This year, the CBO expects that the federal government will spend $3.6 trillion. After accounting for inflation, that's a growth rate of just 1.7 percent. By comparison, and using the exact same methodology, spending in President Bush's first term was up nearly 15 percent. [ThinkProgress.org, 5/25/12]
PolitiFact: Spending Growth Under Obama Is "Second-Slowest" In Recent History. According to PolitiFact: "Obama has indeed presided over the slowest growth in spending of any president [in recent history] using raw dollars, and the growth on his watch was the second-slowest if you adjust for inflation." [PolitiFact.com, 5/23/12]
[NARRATOR:] Tim Kaine left Virginia for Washington and was a cheerleader for massive spending. [KAINE CLIP:] "…the stimulus is working…" [NARRATOR:] But it actually wasted money studying ants in Africa. [KAINE CLIP:] "This stimulus is critically important." [NARRATOR:] Really? How? To upgrade politicians' offices? [KAINE CLIP:] "These are investments that will put people to work right away." [NARRATOR:] But it failed miserably. Tell Tim Kaine, for real job growth, stop backing reckless spending. Support the New Majority Agenda at NewMajorityAgenda.org. [Crossroads GPS via YouTube.com, 7/10/12]