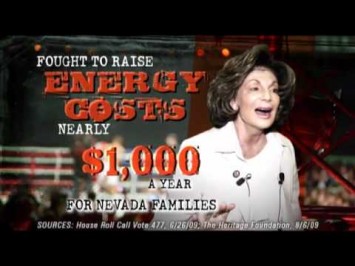 An ad from the U.S. Chamber of Commerce targets Rep. Shelley Berkley (D-NV) for supporting health care reform and clean energy legislation. The ad asserts that the Affordable Care Act "hurts small businesses," citing as evidence a Gallup survey of small business owners that, in fact, contains no mention of the health care law. Of course, the Chamber's misrepresentation of ACA is predictable considering that health insurers paid it more than $100 million to oppose reform. The ad's demonization of a clean energy bill supported by Berkley is similarly problematic, relying on a biased analysis from the right-wing Heritage foundation to exaggerate the legislation's potential impact on Nevada families.
"Hurts Small Businesses" Claim Relies On Survey That Does Not Mention The Health Care Law
The ad's claim that "government-mandated health care…hurts small businesses" cites a report from Gallup Economy on February 15, 2012.
Gallup Poll Cited "Potential Cost Of Healthcare" As Obstacle To Hiring, But Did Not Ask Specifically About The Affordable Care Act. According to Gallup Economy:
U.S. small-business owners who aren't hiring — 85% of those surveyed — are most likely to say the reasons they are not doing so include not needing additional employees; worries about weak business conditions, including revenues; cash flow; and the overall U.S. economy. Additionally, nearly half of small-business owners point to potential healthcare costs (48%) and government regulations (46%) as reasons. One in four are not hiring because they worry they may not be in business in 12 months.

[Gallup.com, 2/15/12]
Affordable Care Act Slows Trend Of Rising Health Care Costs
Rising Health Care Costs Are Part Of A Long-Term Trend. The following chart from CNNMoney illustrates  increasing health care costs between 2002 and 2011:
[Money.CNN.com, 5/11/11]
Without ACA, Health Care Costs Would Rise Even Faster. From CNNMoney: "The individual mandate would help spread health care costs to a larger pool of individuals, thus potentially lowering costs. Should the Supreme Court strike down the Affordable Care Act, consumers can expect that percentage to increase even more as costs rise 'very fast,' [Mathematica Policy Research senior fellow Deborah] Chollet said. Without the law's measures to promote preventative care and spread costs across a larger population, overall costs will rise, she explained. Those without employer-provided health care coverage … will likely pay more for their plans because there will be fewer restrictions on insurers. Individuals could be denied coverage altogether because of a pre-existing health condition or offered coverage only at a very high premium, both of which are prohibited under the Affordable Care Act, Chollet added. Those with insurance through their employer will also pay more to cover the growing number of uninsured, she said." [Money.CNN.com, 3/29/12]
Affordable Care Act Includes Tax Credits For Small Businesses
Many Small Businesses Are Eligible For Tax Credits Under The Affordable Care Act. According to the Kaiser Family Foundation, the Affordable Care Act will "Provide small employers with no more than 25 employees and average annual wages of less than $50,000 that purchase health insurance for employees with a tax credit." [KFF.org, accessed 7/17/12]
Repeal Would Have Negative Consequences For Millions
Up To 6.6 Million Young Adults Would Lose Health Care Coverage Through Their Parents' Plans. From the Los Angeles Times: "President Obama's healthcare law helped as many as 6.6 million young adults stay on or get on their parents' health plans in the first year and a half after the law was signed, a new survey indicates. […] Earlier surveys by the federal government found that the number of people ages 19 to 25 without insurance declined after the law was signed, reversing years of erosion in health coverage for young adults." [Los Angeles Times, 6/8/12]
70,000 Americans With Pre-Existing Conditions Would Lose Insurance Coverage. According to the Department of Health and Human Services, as of May 31, 2012, 73,333 people were enrolled in the Pre-Existing Condition Insurance Plan (PCIP) created by the Affordable Care Act. [HealthCare.gov, 7/13/12]
5.2 Million People Would Have To Pay More For Prescription Drugs. From the Centers for Medicare and Medicaid: "As a result of the Affordable Care Act, over 5.2 million seniors and people with disabilities have saved over $3.9 billion on prescription drugs since the law was enacted.  The Centers for Medicare & Medicaid Services (CMS) also released data today showing that in the first half of 2012, over 1 million people with Medicare saved a total of $687 million on prescription drugs in 'donut hole' coverage gap for an average of $629 in savings this year. […] Coverage for both brand name and generic drugs in the gap will continue to increase over time until 2020, when the coverage gap will be closed." [CMS.gov, 7/25/12]
Over 35 Million Seniors Would Lose Access To Free Preventive Services. The Centers for Medicare and Medicaid Services [CMS] report that 35,106,598 people were enrolled in Medicare Part B in 2011. CMS also reports:
Beginning January 1, 2011, the Affordable Care Act eliminated Part B coinsurance and deductibles for recommended preventive services, including many cancer screenings and key immunizations. The law also added an important new service — an Annual Wellness Visit with a health professional — at no cost to beneficiaries.

According to preliminary numbers, at least 25,720,996 million Americans took advantage of at least one free preventive benefit in Medicare in 2011, including the new Annual Wellness Visit.  This represents 73.3% of Medicare fee-for-service beneficiaries, including 2,404,792 African-American beneficiaries, 537,110 Hispanic beneficiaries, 104,393 American Indian beneficiaries, and 508,398 Asian-American beneficiaries. [CMS.gov, 2/15/12]
Health Insurers Poured Money Into Chamber To Attack Reform
Health Insurance Industry Gave Chamber Over $100 Million To Fight Health Care Reform. From the National Journal:"The nation's leading health insurance industry group gave more than $100 million to help fuel the U.S. Chamber of Commerce's 2009 and 2010 efforts to defeat President Obama's signature health care reform law, National Journal's Influence Alley has learned. During the final push to kill the bill before its March 2010 passage, America's Health Insurance Plans gave the chamber $16.2 million. With the $86.2 million the insurers funneled to the business lobbying powerhouse in 2009, AHIP sent the chamber a total of $102.4 million during the health care reform debate, a number that has not been reported before now. The backchannel spending allowed insurers to publicly stake out a pro-reform position while privately funding the leading anti-reform lobbying group in Washington. The chamber spent tens of millions of dollars bankrolling efforts to kill health care reform." [NationalJournal.com, 6/13/12]
Chamber Distorts Cost Of Clean Energy Legislation Using Study From Right-Wing Heritage Foundation
The ad's claim that Rep. Berkley voted to "raise energy costs by nearly $1,000 a year for Nevada families" cites Roll Call Vote #477 on June 26, 2009 – a vote on the American Clean Energy and Security Act – and an analysis by the conservative Heritage Foundation.
Reuters: Experts Say House-Passed Clean Energy Bill Would Have "Only A Modest Impact On Consumers." According to Reuters: "A new U.S. government study on Tuesday adds to a growing list of experts concluding that climate legislation moving through Congress would have only a modest impact on consumers, adding around $100 to household costs in 2020. Under the climate legislation passed by the House of Representatives in June, electricity, heating oil and other bills for average families will rise $134 in 2020 and $339 in 2030, according to the Energy Information Administration, the country's top energy forecaster. The EIA estimate was in line with earlier projections from the nonpartisan Congressional Budget Office which said average families would pay about $175 extra annually by 2020, and the Environmental Protection Agency, which said families would pay at most an extra $1 per day." [Reuters, 8/5/09]
CBO Estimated Cost Of ACES In 2020 Would Be $175 Per Household Per Year. From the Congressional Budget Office: '"Although the analysis examines the effects of the bill as it would apply in 2020, those effects are described in the context of the current economy that is, the costs that would result if the policies set for 2020 were in effect in 2010. On that basis, CBO estimates that the net annual economywide cost of the cap-and-trade program in 2020 would be $22 billion or about $175 per household." [CBO.gov, 6/20/09]
CBO: Energy Costs Would Actually Decrease For Low-Income Households. According to the Congressional Budget Office's analysis of the American Clean Energy and Security Act, if the bill were implemented, "households in the lowest income quintile would see an average net benefit of about $40 in 2020, while households in the highest income quintile would see a net cost of $245." [CBO.gov, 6/19/09]
[NARRATOR:] The worst economy since the Great Depression and Washington continues to hit Nevada job creators. Whose corner is Shelley Berkley in? She sided with Nancy Pelosi to ram through government-mandated health care, which hurts small businesses. And she fought to raise energy costs by nearly $1,000 a year for Nevada families. Dean Heller is on the side of small business owners and taxpayers. Repeal the health care law. Lower energy costs. Dean Heller: He's the leader Nevada needs. [U.S. Chamber of Commerce via YouTube.com, 7/16/12]