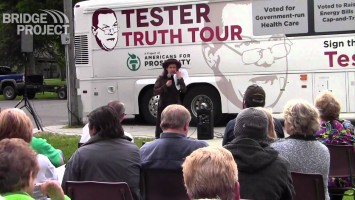 From Dr. Anni Bukacek's remarks at an Americans For Prosperity "Tester Truth Tour" rally on June 19:
I've given you a handout. I went from 70 slides down to about 20, and I'm not going to go through all of those slides because it would take about 5-15 minutes on each slide. So I'm just going to talk real briefly, if you look at the second slide it gives you some of the contents that I'm just gonna briefly go over, and I'm just gonna—I mean it's really true they really are going to have access to your bank accounts. Honestly they already have that, but there is going to be more IRS intrusion, there's going to be more rationing of care and mandated abortion, those kind of things.
Read more after the jump.