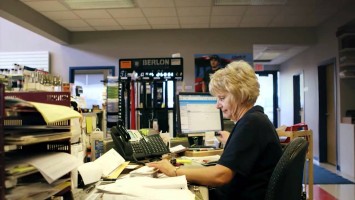 Even though the small business owners featured in American Crossroads' latest presidential ad have benefitted from over $300,000 in government defense contracts during the Obama administration, they complain that President Obama's "bad decisions" and regulations are harming job growth. But the ad cites a study that doesn't address Obama's proposals, and small business owners routinely say that regulations aren't what's keeping them from hiring.
Ad's Small Business Owners Got Hundreds Of Thousands Of Dollars In Government Contracts
Wuebben And Schams Have Benefitted From Over $300,000 In Government Contracts During Obama's Tenure. From the Huffington Post: "The stars of an $8.3 million ad buy by American Crossroads, which criticizes President Barack Obama's attitude toward small business, received more than $300,000 in government contracts during his term alone. 'Small businesses like ours are what have driven this country, and President Obama just doesn't seem to understand that,' says Sherry Wuebben, the CFO and treasurer of St. Joseph's Equipment of LaCrosse, Wis., in the ad, which is running in Colorado, Florida, Iowa, New Hampshire, Nevada, North Carolina, Ohio and Virginia for a week. […] 'There's a reason there aren't more jobs,' says Bill Schams, president of St. Joseph's Equipment, in the ad. 'Obama has made a lot of bad decisions. He treats us like we are his enemy.' […] In fact, their company has been the beneficiary of nearly $2 million in government contracts dating back at least to 1999, according to government data. It has received $345,621 under Obama, $1,304,190 under President George W. Bush and at least $331,235 under President Bill Clinton. The vast majority of these contracts were with the Department of Defense." [HuffingtonPost.com, 9/18/12]
Wuebben Was A Local Republican Party Official. According to the Huffington Post: "Wuebben is listed as a member of the Republican Party of Wisconsin on LinkedIn." According to a press release, Sherry Wuebben was the vice-chairman of the La Crosse County Republican Party in 2004. [HuffingtonPost.com, 9/18/12; WisPolitics.cocm, 11/23/04]
Both Wuebben And Schams Are GOP Donors. From the Columbus Dispatch: "Both have donated to GOP candidates and causes in the past. Wuebben has donated around $2,000 to Republican Dan Kapanke, a former Wisconsin state senator who lost to incumbent Rep. Ron Kind in 2010. Kapanke lost his state Senate seat to a Democrat during a spate of recall elections in 2011. Schams, meanwhile, also donated to Kapanke's congressional bid and has also donated $500 to former presidential candidate Newt Gingrich, $1,000 to the Republican National Committee and $500 to the National Rifle Association." [Dispatch.com, 9/18/12]
Ad Cites A Study That Doesn't Model Obama's Proposals
As Schams says "Obama has made a lot of bad decisions. He treats us like we are his enemy," on-screen text reads, "millions of small businesses could be forced to cut jobs and wages." The citation is for a Washington Post story about an Ernst & Young study commissioned by business associations.
Ernst & Young Study Didn't Address President's Proposals. According to economist Jared Bernstein: "First off, E&Y quite conspicuously fail to simulate what it is the President is proposing, so their main findings shouldn't be considered in evaluating his proposals.  Second, when they get a little closer to what he is proposing, they find it adds jobs." [JaredBernsteinBlog.com, 8/14/12]
Ernst & Young Study Assumes Revenue From Ending Tax Cuts Will Pay For More Spending But Obama Proposed To Use It For Deficit Reduction. From an analysis by the National Economic Council's Jason Furman via the White House: "The President has proposed to let the high-income tax cuts expire and use the resulting $1 trillion in savings (over 10 years) as part of a balanced plan to reduce deficits and debt and put the nation on a sustainable fiscal course that includes $2.50 of spending cuts for every $1.00 of revenue.  But rather than modeling the President's proposal to reduce the deficit, the headline numbers in the study explicitly assume that the revenue would be used entirely to finance additional spending.  In fact, the study explicitly states, 'Using the additional revenue to reduce the deficit is not modeled.'" [WhiteHouse.gov, 7/17/12, underlining original]
When The Study Models Ending Top-Tier Tax Cuts While Giving Middle Class Cuts, It Projects An Employment Increase. According to economist Jared Bernstein: "But for all of that, they actually find that when they model something that's closer to what the President is proposing — getting rid of the Bush tax cuts for high-income families, while providing additional tax  cuts to the middle-class — employment grows by 0.4%, or almost 600,000 jobs. When they simulate the wrong scenario of new tax revenues used to support higher spending (column 1, table 2), they estimate that employment would fall by 0.5%.  But if the revenue was used to finance across-the-board tax cuts, employment grows." [JaredBernsteinBlog.com, 8/14/12]
Claim That Regulations Are Hurting The Economy Is Not Supported By Evidence
GPS cites a Gallup poll of small business owners to support the assertion that Obama has "increased our taxes, he's increased our health care expenses. … We've gotten so many regulations that you can't keep up on."
Gallup Poll Of Small Business Owners Found "Government Regulations" Low On The List Of Obstacles To Hiring. According to Gallup Economy:
U.S. small-business owners who aren't hiring — 85% of those surveyed — are most likely to say the reasons they are not doing so include not needing additional employees; worries about weak business conditions, including revenues; cash flow; and the overall U.S. economy. Additionally, nearly half of small-business owners point to potential healthcare costs (48%) and government regulations (46%) as reasons. One in four are not hiring because they worry they may not be in business in 12 months.

[Gallup.com, 2/15/12]
National Association For Business Economics Economic Policy Survey: 80 Percent Of Members Say Current Regulatory Environment "Good" For Businesses. From the NABE's August 2011 Economic Policy Survey: "Regulatory activity has gained a lot of attention, with many groups suggesting that American businesses are overregulated by the current administration. With that said, 80 percent of survey respondents felt that the current regulatory environment was 'good' for American businesses and the overall economy." [NABE.com, August 2011]
Washington Post: Economists Find "Little Evidence" That Regulations Have A Significant Impact On Overall Employment. According to the Washington Post: "Economists who have studied the matter say that there is little evidence that regulations cause massive job loss in the economy, and that rolling them back would not lead to a boom in job creation." [Washington Post, 10/19/11]
McClatchy: "Little Evidence" To Support Blaming "Excessive Regulation And Fear Of Higher Taxes For Tepid Hiring." As reported by McClatchy: "Politicians and business groups often blame excessive regulation and fear of higher taxes for tepid hiring in the economy. However, little evidence of that emerged when McClatchy canvassed a random sample of small business owners across the nation. 'Government regulations are not 'choking' our business, the hospitality business,' Bernard Wolfson, the president of Hospitality Operations in Miami, told The Miami Herald. 'In order to do business in today's environment, government regulations are necessary and we must deal with them. The health and safety of our guests depend on regulations. It is the government regulations that help keep things in order.'" [McClatchy, 9/1/11]
McClatchy: "Some Pointed To The Lack Of Regulation In Mortgage Lending As A Principal Cause Of The Financial Crisis." As reported by McClatchy: "McClatchy reached out to owners of small businesses, many of them mom-and-pop operations, to find out whether they indeed were being choked by regulation, whether uncertainty over taxes affected their hiring plans and whether the health care overhaul was helping or hurting their business. Their response was surprising. None of the business owners complained about regulation in their particular industries, and most seemed to welcome it. Some pointed to the lack of regulation in mortgage lending as a principal cause of the financial crisis that brought about the Great Recession of 2007-09 and its grim aftermath." [McClatchy,9/1/11]
ProPublica: "Mostly, [Regulations] Just Shift Jobs Within The Economy." As reported by ProPublica: "But is the claim that regulation kills jobs true? We asked experts, and most told us that while there is relatively little scholarship on the issue, the evidence so far is that the overall effect on jobs is minimal. Regulations do destroy some jobs, but they also create others. Mostly, they just shift jobs within the economy. 'The effects on jobs are negligible. They're not job-creating or job-destroying on average,' said Richard Morgenstern, who served in the EPA from the Reagan to Clinton years and is now at Resources for the Future, a nonpartisan think tank." [ProPublica, 9/21/11]
Regulatory Expert: "Current Rhetoric About Regulation Killing Jobs Is Nothing More Than Not Letting A Good Crisis Go To Waste." From ProPublica: "'The issue in regulation always should be whether it delivers benefits that justify the cost,' said [Roger] Noll[, co-director of the Program on Regulatory Policy at the Stanford Institute for Economic Policy Research]. 'The effect of regulation on jobs has nothing to do with the mess we're in. The current rhetoric about regulation killing jobs is nothing more than not letting a good crisis go to waste.'" [ProPublica, 9/21/11]
Former Reagan Adviser: "Regulatory Uncertainty Is A Canard Invented By Republicans" And Unsupported By The Facts. According to former Reagan adviser Bruce Bartlett: "These constraints have led Republicans to embrace the idea that government regulation is the principal factor holding back employment. They assert that Barack Obama has unleashed a tidal wave of new regulations, which has created uncertainty among businesses and prevents them from investing and hiring. No hard evidence is offered for this claim; it is simply asserted as self-evident and repeated endlessly throughout the conservative echo chamber. […] In my opinion, regulatory uncertainty is a canard invented by Republicans that allows them to use current economic problems to pursue an agenda supported by the business community year in and year out. In other words, it is a simple case of political opportunism, not a serious effort to deal with high unemployment." [New York Times, 10/4/11]
Consumer Demand Is The Key To Job Growth
Wall Street Journal: "Scant Demand, Rather Than Uncertainty Over Government Policies," Is "The Main Reason" For Slow Recovery In Jobs Market. From the Wall Street Journal: "The main reason U.S. companies are reluctant to step up hiring is scant demand, rather than uncertainty over government policies, according to a majority of economists in a new Wall Street Journal survey. […] In the survey, conducted July 8-13 and released Monday, 53 economists—not all of whom answer every question—were asked the main reason employers aren't hiring more readily. Of the 51 who responded to the question, 31 cited lack of demand (65%) and 14 (27%) cited uncertainty about government policy. The others said hiring overseas was more appealing." [Wall Street Journal, 7/18/11]
Wall Street Journal: Businesses Need "A Burst In Demand Strong Enough To Propel Hiring." As reported by the Wall Street Journal: "Forecasting firm Macroeconomic Advisers, which sees growth at a 2.3% pace in the second half of this year and 2.8% in 2012, expects firms to keep banking strong profits. But even if businesses remain strong enough to make it through a slowdown, they may have to wait longer for a burst in demand strong enough to propel hiring. 'The biggest problem is that their order books are thin,' said Macroeconomic Advisers chairman Joel Prakken. 'They need fat order books to add people. They need fat order books to buy machines.'" [Wall Street Journal, 8/29/11]
CBO Director Elmendorf: "Primary Reason" For Persistent Unemployment Is "Slack Demand For Goods And Services." From a blog post by Doug Elmendorf on CBO.gov: "Slack demand for goods and services (that is, slack aggregate demand) is the primary reason for the persistently high levels of unemployment and long-term unemployment observed today, in CBO's judgment. However, when aggregate demand ultimately picks up, as it eventually will, so-called structural factors—specifically, employer-employee mismatches, the erosion of skills, and stigma—may continue to keep unemployment and long-term unemployment higher than normal." [CBO.gov, 2/16/12]
AP: "Most Economists Believe There Is A Simpler Explanation" For Slow Job Growth: "There Isn't Enough Consumer Demand." From the Associated Press; "Is regulation strangling the American entrepreneur? Several Republican presidential candidates say so. The numbers don't. […] Labor Department data show that only a tiny percentage of companies that experience large layoffs cite government regulation as the reason. Since Barack Obama took office, just two-tenths of 1 percent of layoffs have been due to government regulation, the data show. Businesses frequently complain about regulation, but there is little evidence that it is any worse now than in the past or that it is costing significant numbers of jobs. Most economists believe there is a simpler explanation: Companies aren't hiring because there isn't enough consumer demand." [Associated Press, 10/12/11, emphasis added]
[SHERRY WUEBBEN:] Businesses like ours are what have driven this country, and President Obama just doesn't seem to understand that. [BILL SCHAMS:] There's a reason there aren't more jobs. Obama has made a lot of bad decisions. He treats us like we are his enemy. [WUEBBEN:] He's increased our taxes, he's increased our health care expenses. [SCHAMS:] We've gotten so many regulations that you can't keep up on, and you don't know what more is coming down the pipe. Obama is definitely making things harder for us. If he has four more years, I don't think we're going to want to see what it looks like. [NARRATOR:] American Crossroads is responsible for the content of this advertising. [American Crossroads via YouTube.com, 9/18/12]