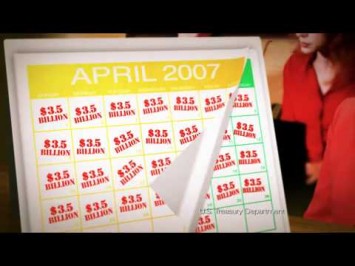 Crossroads GPS accuses Sen. Claire McCaskill (D-MO) of supporting "billions in wasted spending projects that didn't help Missouri," citing as evidence Recovery Act grants that went to California, Vermont, and Texas. However, those three projects cost less than $30 million combined, and the Recovery Act funds were distributed all across the country to help turn the economy around. The ad further misleads by blaming McCaskill, instead of costly Bush policies and the recession, for driving up the debt.
"Wasted" Recovery Act Created Jobs, Boosted GDP, And Cut Taxes
Recovery Act "Succeeded In…Protecting The Economy During The Worst Of The Recession." From the Center on Budget and Policy Priorities: "A new Congressional Budget Office (CBO) report estimates that the American Recovery and Reinvestment Act (ARRA) increased the number of people employed by between 200,000 and 1.5 million jobs in March. In other words, between 200,000 and 1.5 million people employed in March owed their jobs to the Recovery Act. […] ARRA succeeded in its primary goal of protecting the economy during the worst of the recession. The CBO report finds that ARRA's impact on jobs peaked in the third quarter of 2010, when up to 3.6 million people owed their jobs to the Recovery Act. Since then, the Act's job impact has gradually declined as the economy recovers and certain provisions expire." [CBPP.org, 5/29/12]
At Its Peak, Recovery Act Was Responsible For Up To 3.6 Million Jobs. According to the nonpartisan Congressional Budget Office:
CBO estimates that ARRAs [sic] policies had the following effects in the third quarter of calendar year 2010:

They raised real (inflation-adjusted) gross domestic product by between 1.4 percent and 4.1 percent,
Lowered the unemployment rate by between 0.8 percentage points and 2.0 percentage points,
Increased the number of people employed by between 1.4 million and 3.6 million, and
Increased the number of full-time-equivalent (FTE) jobs by 2.0 million to 5.2 million compared with what would have occurred otherwise. (Increases in FTE jobs include shifts from part-time to full-time work or overtime and are thus generally larger than increases in the number of employed workers). [CBO.gov, 11/24/10]
Recovery Act Included $288 Billion In Tax Cuts. From PolitiFact: "Nearly a third of the cost of the stimulus, $288 billion, comes via tax breaks to individuals and businesses. The tax cuts include a refundable credit of up to $400 per individual and $800 for married couples; a temporary increase of the earned income tax credit for disadvantaged families; and an extension of a program that allows businesses to recover the costs of capital expenditures faster than usual. The tax cuts aren't so much spending as money the government won't get — so it can stay in the economy." [PolitiFact.com, 2/17/10]
Missouri's Unemployment Rate Has Fallen By Almost 2 Percentage Points Since Recovery Act Passed. According to the Bureau of Labor Statistics, Missouri had an unemployment rate of 9.0 percent in February 2009, and it peaked at 9.7 percent in August of that year (shortly after the recession ended in June, according to the National Bureau of Economic Research). As of June 2012, Missouri's unemployment rate was 7.1 percent. [BLS.gov, accessed 7/22/12; NBER.org, 9/20/10]
"$1.9 Million To California"
The ad's claim that McCaskill supported "wasteful spending projects" is accompanied by onscreen text that reads "$1.9 million to California" and a video of ants.
The Recovery Act Funded The National Science Foundation, Which Allocated Some Money To Ant Research. According to PolitiFact: "The federal stimulus gave $3 billion to the National Science Foundation, which otherwise had a budget of about $6.5 billion in 2009, according to the foundation's Website. The foundation is distributing the money using the same peer-review process with which it normally decides on which research to fund. As it turns out, one scientist's study on ants of the Southwest Indian Ocean and East Africa made the cut. PolitiFact Oregon caught up with Brian Fisher, the project's leader and curator of entomology at the California Academy of Sciences, to pick his brain about the recent political celebrity of ants. […] While ant research might not seem like an obvious target for government funds, Fisher provides a logical defense. Ants, Fisher says, offer insight into climate change, the spread of disease and natural disasters. 'You can't monitor every single living thing, (but) there are key groups that can serve as indicators for other taxa, ants being one of them,' he said. 'Without them, we wouldn't have a functioning ecosystem.' It's also worth noting that the project has so far helped employ 16 people, at Fisher's last count." [PolitiFact.com, 9/17/10]
"$25 Million To Vermont"
The ad's claim that McCaskill supported "wasteful spending projects" is accompanied by onscreen text that reads "$25 million to Vermont" and a video of skiers.
Ski Resort Got $25 Million In Loans. From the Deerfield Valley News: "On June 7, the Vermont Economic Development Authority approved $92.3 million in loans for Vermont businesses. The money was provided through the American Recovery and Reinvestment Act for economic development growth. The VEDA selected 14 businesses and organizations from around the state. Mount Snow is one of two Windham County businesses that will receive VEDA funds. Mount Snow received preliminary approval for $25 million in Recovery Zone Facility Bond Financing. The Recovery Zone Facility Bond program offers tax-exempt financing for large fixed-asset projects such as manufacturing facilities, commercial establishments, and office buildings." [Deerfield Valley News, accessed 6/13/12]
Ski Resort Improvements Predicted To Create New Jobs. From the Deerfield Valley News: "Mount Snow will utilize the $25 million in loans to finance the ski area's planned capital improvement project. Much of the money will go toward the replacement of the Summit Local and Sunbrook chairlifts, construction of a 120-million-gallon storage pond for snowmaking purposes, and the installation of additional fan guns. The upgrades will help Mount Snow increase snowmaking efficiency and lift capacity and may lead to 17 additional jobs within the next three years." [Deerfield Valley News, accessed 6/13/12]
"$300,000 To Texas"
The ad's claim that McCaskill supported "wasteful spending projects" is accompanied by onscreen text that reads "$300,000 to Texas" and an image of Venus.
Study Of Venus' Weather Also Funded By A National Science Foundation Grant. According to Research.gov, the National Science Foundation awarded the Southwest Research Institute $298,543 under the Recovery Act to collect data on Venus' atmospheric circulation. [Research.gov, accessed 6/13/12; Research.gov, 6/13/12]
Bush Policies And Recession Caused Debt To Skyrocket
Prior To President Obama's Inauguration, President Bush Had Already Created A Projected $1.2 Trillion Deficit For Fiscal Year 2009. From the Washington Times:  "The Congressional Budget Office announced a projected fiscal 2009 deficit of $1.2 trillion even if Congress doesn't enact any new programs. […] About the only person who was silent on the deficit projection was Mr. Bush, who took office facing a surplus but who saw spending balloon and the country notch the highest deficits on record." [Washington Times, 1/8/09]
NYT: President Bush's Policy Changes Created Much More Debt Than President Obama's. The New York Times published the following chart comparing the fiscal impact of policies enacted under the Bush and Obama administrations:
[New York Times, 7/24/11]
Recession Added Hundreds Of Billions In Deficits By Increasing Spending On Safety Net While Shrinking Tax Revenue. The Center on Budget and Policy Priorities (CBPP) explains: "When unemployment rises and incomes stagnate in a recession, the federal budget responds automatically: tax collections shrink, and spending goes up for programs like unemployment insurance, Social Security, and Food Stamps." According to CBPP: "The recession battered the budget, driving down tax revenues and swelling outlays for unemployment insurance, food stamps, and other safety-net programs. Using CBO's August 2008 projections as a benchmark, we calculate that the changed economic outlook alone accounts for over $400 billion of the deficit each year in 2009 through 2011 and slightly smaller amounts in subsequent years. Those effects persist; even in 2018, the deterioration in the economy since the summer of 2008 will account for over $300 billion in added deficits, much of it in the form of additional debt-service costs." [CBPP.org, 11/18/10; CBPP.org, 5/10/11, citations removed]
Over The Coming Decade, The Bush Tax Cuts Are The Primary Cause Of Federal Budget Deficits. The Center on Budget and Policy Priorities prepared a chart showing the deficit impact of the Bush tax cuts (orange), the Iraq and Afghanistan wars, the recession itself, and spending to rescue the economy:
[CBPP.org, 5/10/11]
CBPP: Bush Tax Cuts And Wars Are Driving The Debt. According to the Center on Budget and Policy Priorities:
The complementary chart, below, shows that the Bush-era tax cuts and the Iraq and Afghanistan wars — including their associated interest costs — account for almost half of the projected public debt in 2019 (measured as a share of the economy) if we continue current policies.

 

[Center on Budget and Policy Priorities, 5/20/11]
Failure To Raise The Debt Limit Could Have Had Severe Economic Consequences
Debt Limit Does Not Determine U.S.' Debt Level; It Is "A Limit On The Ability Of The Federal Government To Pay Obligations Already Incurred." According to the Government Accountability Office: "The debt limit does not control or limit the ability of the federal government to run deficits or incur obligations. Rather, it is a limit on the ability to pay obligations already incurred. While debates surrounding the debt limit may raise awareness about the federal government's current debt trajectory and may also provide Congress with an opportunity to debate the fiscal policy decisions driving that trajectory, the ability to have an immediate effect on debt levels is limited" [GAO.gov, 2/22/11]
Failure To Raise Debt Ceiling Could Have Resulted In Default Or Had Other Severe Economic Consequences. From CNNMoney: "A failure to raise the debt ceiling would likely send shockwaves through the underpinnings of the financial system — and possibly ripple out to individual investors and consumers. The federal government would be forced to prioritize its payments. It would risk defaulting on its financial obligations. And if that happens, credit rating agencies would downgrade U.S. debt." [Money.CNN.com, 7/21/11]
Debt Limit Has Been Raised Over 90 Times Since 1940. From the Center on Budget and Policy Priorities: "Before World War I, Congress generally had to approve each separate issuance of federal debt. Since then, the limit has evolved into an overall dollar cap on the amount of debt the federal government can incur.  Since 1940, Congress has enacted 91 separate increases in the statutory debt limit, an average of one every nine months (though individual increases lasted anywhere from three days to eight years)." [CBPP.org, 7/21/11]
[NARRATOR:] We know Claire McCaskill voted for billions in wasted spending projects that didn't help Missouri. Claire also voted seven times to raise the debt limit, allowing government to spend even more, borrowing billions more from countries like China. And for what? $3.5 billion more debt per day since McCaskill's been in office. Tell Claire to stop spending and cut the debt. Support the New Majority Agenda at NewMajorityAgenda.org. [Crossroads GPS via YouTube.com, 8/14/12]