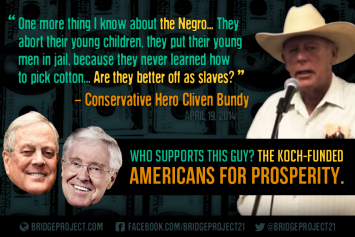 Cliven Bundy's racist rant and recent support from prominent Republicans like Rand Paul and Rick Perry may have made the front page of the New York Times, but lesser known is the support Bundy's cause has received from the Koch brother's primary political enterprise, Americans For Prosperity. AFP's Nevada and Colorado affiliates have repeatedly come to the defense of Bundy's cause, attacking the Bureau of Land Management and its actions via social media. Who will be next on AFP's list of causes to defend?
Research after the jump.
Read more after the jump.