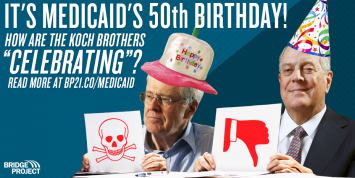 It's Medicaid's 50th birthday, and the Koch brothers planned something special: a death panel.
In conjunction with the 50th anniversary of Medicaid, Bridge Project today released a new report, "The Koch-Backed Effort to Kill Medicaid," highlighting the Koch brothers ongoing assault on Medicaid, which they would give just about anything — hundreds of millions of dollars, anyway — to destroy.
And unlike some of their other, more subversive campaigns of destruction that prioritize their profit margins over the interests of the American public, the Kochs haven't been too subtle on this one: the Kochs and Koch-funded groups have explicitly spoken out against Medicaid, advocated Medicaid-crippling budgets, and even attacked Republicans (!) for not supporting their Medicaid-destroying agenda.
This time, the Kochs are all-in. All-in to block state-level Medicaid expansions that would extend healthcare access to millions of Americans. All-in to strip healthcare from the millions who already benefit from the program — half of which are children, and another quarter of which are either disabled or elderly. All-in to destroy Medicaid.
Read more in "The Koch-Backed Effort to Kill Medicaid."