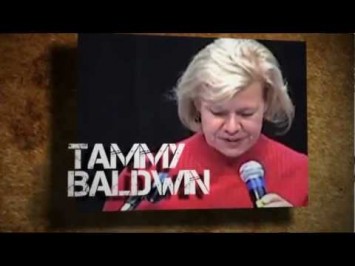 An ad from Crossroads GPS says Rep. Tammy Baldwin (D-WI) is "out of touch with Wisconsin," claiming that she wants to give the government more control over health care and let "unelected bureaucrats" make decisions on Medicare spending cuts. In reality, Baldwin's priority is expanding health care coverage to all Americans, and she has floated a variety of ways to do so, while the "unelected bureaucrats" are in reality a Senate-confirmed advisory board that's prohibited from cutting Medicare benefits. The ad's accusation that Baldwin wants to tax middle-class families also doesn't hold water; in August she voted to extend the Bush tax cuts for income under $250,000.
Baldwin Supports A System That Would Ensure Health Care Coverage For All Americans
Baldwin Has Floated A Number Of Methods For Expanding Health Care Coverage To All. From the PolitiFact article cited by Crossroads GPS: "Baldwin has long advocated providing health insurance for everyone. […] In 2000, Baldwin introduced the Health Security for All Americans Act, which would have required states to provide universal coverage. The bill died without a House vote, as it did Baldwin after reintroduced it in 2002, 2004 and 2005. […] Baldwin tried to get the government more involved in health care by making it the sole payer of health care services. In 2009, on the day the House Energy and Commerce Committee voted for Obama's reform law, Baldwin said: 'I am one of the members of this committee who believes strongly that a single-payer health system is the best way to comprehensively and fairly reform our health care system.' […] Baldwin advocates for the federal government offering health insurance along with private insurers. Baldwin said she hoped a public option in Obama's law would lead to single-payer. The version of Obama's measure that Baldwin voted for in 2009 included the public option, but the final version did not. […] Thompson campaign spokesman Brian Nemoir pointed out that Baldwin was one of several dozen co-sponsors of the Expanded and Improved Medicare for All Act, which has been introduced several times during her tenure. It would have provided universal care by creating a national health insurance program and prohibiting private insurers from selling coverage that duplicates benefits in the program." [PolitiFact.com, 8/26/12]
IPAB Cannot Cut Benefits
One of the citations GPS provides for the claim that Baldwin "wants Medicare spending cuts decided by unelected bureaucrats" is testimony from Health and Human Services Secretary Kathleen Sebelius on July 13, 2011. On that date Secretary Sebelius testified about the Independent Payment Advisory Board.
ACA Establishes An Independent, Senate-Confirmed Board (IPAB) To Find Additional Savings. As explained by the Kaiser Family Foundation: "The 2010 health reform law (the Patient Protection and Affordable Care Act, also referred to as the ACA) establishes a new Independent Payment Advisory Board (IPAB) with authority to issue recommendations to reduce the growth in Medicare spending, and provides for the Board's recommendations to be considered by Congress and implemented by the Administration on a fast-track basis. […]As authorized by the health reform law, IPAB is an independent board housed in the executive branch and composed of 15 full-time members appointed by the President and confirmed by the Senate. [Kaiser Family Foundation, April 2011]
IPAB Proposals Will Be Implemented Unless Congress Finds Alternative Savings Or Supermajority Overturns Them. According to the Washington Post: "Beginning with fiscal 2015, if Medicare is projected to grow too quickly, the IPAB will make binding recommendations to reduce spending. Those recommendations will be sent to Capitol Hill at the beginning of each year, and if Congress doesn't like them, it must pass alternative cuts — of the same size — by August. A supermajority of the Senate can also vote to amend the IPAB [spending] recommendations. If Congress fails to act, the secretary of Health and Human Services is required to implement the cuts by default." [Washington Post, 5/8/11]
IPAB Cannot "Ration" Care. According to the Kaiser Family Foundation: "The Board is prohibited from recommending changes that would reduce payments to certain providers before 2020, and is also prohibited from recommending changes in premiums, benefits, eligibility and taxes, or other changes that would result in rationing." [Kaiser Family Foundation, April 2011]
Baldwin Supports Tax Cuts For Middle Class Families
Baldwin Supported Extension Of Bush Tax Cuts For Income Up To $250,000. From Baldwin's House website: "Families continue to struggle in this economy. With persistently high unemployment, continued weakness in the housing market and limited access to credit for small businesses, I believe that a tax increase on working families would slow our economic recovery. Therefore, I supported extension of the Bush era tax cuts on income up to $250,000." [TammyBaldwin.House.gov, accessed 9/18/12]
In August, Baldwin Voted To Extend Bush-Era Tax Cuts For Income Up To $250,000. Baldwin voted "Yea" on the Levin Amendment to H.R. 8. [H.R. 8, Vote #543, 8/1/12]
[TAMMY BALDWIN CLIP:] "You're damn right we're making a difference." [NARRATOR:] Tired of all the shouting? Tammy Baldwin is just out of touch with Wisconsin. She thinks Obamacare didn't go far enough in putting government in control of our health care. Wants Medicare spending cuts decided by unelected bureaucrats, and Baldwin supports more taxes on middle class families. Bigger government, extreme politics. Tammy Baldwin is what's wrong with Washington. [BALDWIN CLIP:] "You're damn right." [NARRATOR:] Crossroads GPS is responsible for the content of this advertising. [Crossroads GPS via YouTube.com, 9/16/12]