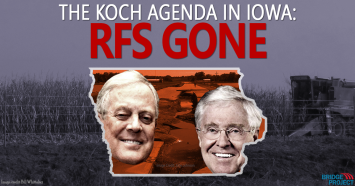 Bridge Project is continuing the "Month's Supply of Koch" with the release of the latest report: "The Importance of Buying Ernst: Why the Kochs Go Wilde Lobbying in the Hawkeye State." It's a comprehensive look at the impact of the Kochs' operations in Iowa. In their quest to grow their empire, the early primary state has been a central focus for the brothers' political maneuvering.
 
The Koch brothers' priorities couldn't be more out-of-step with Hawkeye State values. Perhaps the best example of the Kochs' self-interest is their opposition to the renewable fuel standard and biodiesel fuel standards – a boon to Iowa's economy – to protect their own oil profits. In fact, since 2006, Koch companies have lobbied on at least 37 bills in Iowa related to ethanol, biodiesel, and other renewable fuels — despite overwhelming support of biodiesel by Iowans. The Kochs aren't just hitting Iowa's farmers on renewables; Americans for Prosperity even lobbied against the Farm Bill in 2014. 
 
Just about every issue lobbied on by the Kochs lines their pockets while hurting Iowans. For example, the Kochs, who are major formaldehyde producers, lobbied against the classification of formaldehyde as a carcinogen, and in Iowa, lobbied on a bill that would ban formaldehyde in children's toys. The Kochs fought a bill giving workers injured on the job access to better care by allowing them to see their own doctors. They also lobbied against a bill that permitted Iowans to file consumer fraud lawsuits against dishonest businesses.
Read more after the jump.