With the President in Utah this afternoon to reportedly announce plans to shrink two national monuments, American Bridge is responding by shining a bright light on Donald Trump's true motives. The reality is that the move is designed to appease big oil companies despite opposition by people across Utah, notably the Native Americans to whom the land is sacred.
"The motives behind Donald Trump's executive order are about one thing: putting more money in the pockets of big oil. Moving forward with this plan at the expense of our environment and the wishes of people across Utah is just the latest display of the President's reckless priorities," said American Bridge Vice President Shripal Shah.
Here are three things to know about Trump's plan:
1) Trump's Monument Review Was Intended To Free Up Federal Land For Oil Drilling
Donald Trump's Executive Order forcing a review of national monuments is part of a "broader push to open up more federal lands for drilling, mining, and other development."  The order itself even noted how national monument designations created "barriers" to extracting energy from these important American landmarks.
And, if there was any doubt the two monuments Trump is preparing to downsize first, Bears Ears and Grand Staircase-Escalante are among the richest in fossil fuel resources.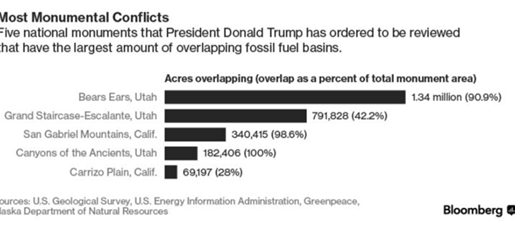 2) Destroying or Downsizing These Monuments Would Harm The Local Economy
The archaeological and ecological treasures in the monuments are driving local economic growth. Per-capita income rose 28 percent around Grand Staircase-Escalante after the designation, and employment rose 40 percent, with Escalante Chamber of Commerce Vice President Kris Waggoner attesting to the monuments role in those economic gains.

3) The National Monuments Are "Sacred To Native Americans And Home To Tens Of Thousands Of Archaeological Sites"
Up to 20,000 Native Americans live within 45 minutes of Bears Ears, relying on it not only for food but as a link to their sacred cultural heritage. If this land is opened up for the drilling and mining Trump and Zinke have planned, their shrines and burial grounds will be desecrated, as they were before the designation.
All of this to line the pockets of an oil and gas industry that bankrolled President Trump's campaign and subsidized Zinke's travel as Secretary.